Olympus SpinSR10 Spinning Disk Confocal (416A)
An inverted spinning disk confocal microscope with an integrated Yokogawa Corporation CSU-W1 T2SSR confocal disk unit designed for both high-resolution and tissue imaging.
The confocal disk unit runs on an Olympus IX83 body and is controlled by Olympus cellSens imaging software.
This microscope is equipped with two identical Hamamatsu ORCA-Fusion BT cameras for simultaneous dual-channel acquisition, and high-end oil- and silicone-immersion objectives for imaging live cells and model organisms and fixed specimens.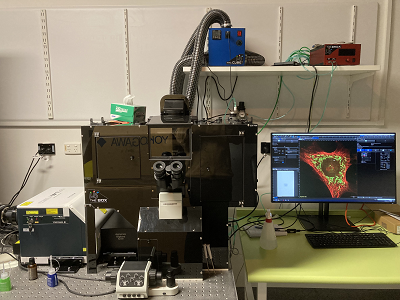 Features:
Equipped with CSU-W1 T2SSR confocal disk unit

2 x Hamamatsu ORCA-Fusion BT sCMOS cameras for simultaneous dual-channel acquisition and fast capture of large mosaic images at high sensitivity (95 % quantum efficiency)

Mad City Labs 500 µm piezo z-drive and Olympus IX3-ZDC2 continuous hardware focus for rapid z-acquisition and focus stabilisation

Ludin full enclosure incubation with temperature and CO2 control
Objectives:
Air:
UPLXAPO10X (NA 0.4, WD 3.1 mm)

UPLXAPO20X (NA 0.8, WD 0.6 mm)
Silicone:
UPLSAPO30XS (NA 1.05, WD 0.8 mm)

UPLSAPO40XS (NA 1.25, WD 0.3 mm)
Oil:
UPLXAPO60XO (NA 1.42, WD 0.15 mm)

UPLXAPO100XO (NA 1.45, WD 0.13 mm) 
Lasers:
Coherent OBIS 405 nm LX (50 mW)

Coherent OBIS 488 nm LS (150 mW)

Coherent OBIS 561 nm LS (150 mW)

Coherent OBIS 640 nm LX (140 mW)
To cite the use of the Olympus SpinSR10 in a manuscript, please refer to the following suggestion (and adjust the objectives used as necessary):
Fluorescence immuno-labelling in cells and tissue was visualised and imaged using an Olympus UPLXAPO 20x/0.8 NA air objective and UPLXAPO 60x/1.42 NA oil-immersion objective on a spinning disk confocal microscope (SpinSR10; Olympus, Japan) built around an Olympus IX3 body and equipped with two ORCA-Fusion BT sCMOS cameras (Hamamatsu Photonics K.K., Japan) and controlled by Olympus cellSens software
Guide to using the Olympus SpinSR10 Spinning Disk Confocal