Epifluorescence Microscopes: Axio Observer Indigo (616) - Inverted
Inverted fluorescent microscope fitted with a monochrome camera. Suited for fluorescence and bright field imaging of live cells in flasks, dishes or glass-bottomed MatTek dishes.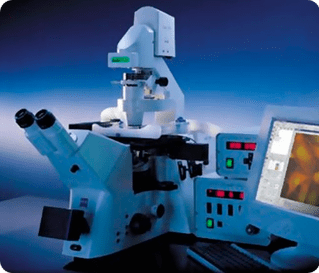 Features Include:
CO2 and temperature incubation controls for live cell imaging
Fully motorised X-Y-Z stage
Z-stack imaging
MosaiX tiled imaging
Mark and Find for fully automated image capture and high-throughput experiments
ApoTome optical sectioning
Objectives have long working distances (good for plastic dishes)
Different stage inserts for small dishes, multi-well plates and flasks
Heated stage inserts for MatTek dishes and 24well plates
DIC
plasDIC for DIC imaging through plastic
Objectives:
Air:

2.5x

 

0.16 NA / 18.5mm WD / 2.58 μm/pixel,
10x 0.3 NA / 5.2mm WD / 0.645 μm/pixel,
20x 0.8 NA / 0.55mm WD / 0.323 μm/pixel,
20x 0.4 NA / 7.9mm WD / 0.323 μm/pixel,
40x

 

0.6 NA / 2.9mm WD / 0.161 μm/pixel
Glycerine:

63x

 

1.3 NA / 0.17mm WD / 0.102 μm/pixel
Fluorescent Filter Sets For:
DAPI (FS#49) BP335-383/BS395/BP 420-470

GFP / Alexa 488 (FS#38) BP450-490/BS495/BP500-550

Cy3 / Alexa 546/555/568 (FS#43) BP533-558/BS570/BP570-640

mCherry / Alexa 594 (FS#43) BP533-558/BS570/BP570-640

Cy5 / Alexa 633/647 (FS#50) BP625-655/BS660/BP665-715
Fluorescent Illumination:
Colibri LEDs – 365nm (DAPI), 470nm (GFP), 590nm (mCherry/Alexa594), 625nm (Cy5/Alexa647)
Illumination Power:
Xenon HXP:

405nm (1.7mW),
488nm (9.49mW),
568nm (5.9mW),
647nm (14.73mW)
Instructions
Guide to using Axio Imagers and Observers
Guide to High-throughput Imaging
When including this microscope in your methods:
Cells/tissue/specimens were imaged on an Axio Observer Z1 inverted fluorescence microscope (Carl Zeiss Pty Ltd) fitted with a full-enclosure incubator with CO2 and temperature control for live-cell imaging, an Axiocam 702 monochrome high-speed camera (Carl Zeiss), and a 20x/0.8 NA Plan-Apochromat objective (or other – please refer to objectives list) (Carl Zeiss). Image acquisition was performed using ZEN software (Carl Zeiss).