Confocal Microscopes: Diskovery Spinning Disk Confocal (412)
An inverted spinning disk confocal microscope utilizing Spectral Applied Research's Diskovery spinning disk module designed for both high-resolution and tissue imaging.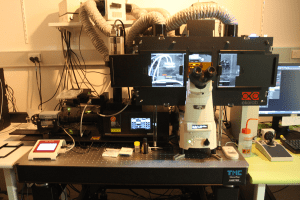 The Diskovery module runs on a Nikon TiE body and is controlled by Nikon NIS software.
This microscope is equipped with several high-end objectives suitable for imaging live cells and model organisms as well as fixed cells and tissues.
Features:
Equipped with Diskovery disk head.
2x Zyla 4.2 sCMOS cameras enabling dual channel simultaneous imaging, fast capture of large mosaic images and high-sensitivity high dynamic range imaging.
TIRF imaging capability
500µm wide range piezo z-drive and Nikon perfect focus for rapid z-stack capture and focus stabilisation.
Objectives:
Air:
CFI Plan Apochromat Lambda 10x / N.A. 0.45 / W.D. 4.0mm
CFI Plan Apochromat VC 20x / N.A. 0.75 / W.D. 1.00mm
Water:
CFI Apo Lambda S LWD 40XWI / N.A. 1.15 / W.D. 0.60mm
Oil:
CFI Apo Lambda 60x Oil / N.A. 1.4 / W.D. 0.13mm
CFI Plan Apo Lambda 100x Oil / N.A. 1.45 / W.D. 0.13mm
CFI Apochromat TIRF 60xH / N.A. 1.49 / W.D. 0.13mm
Lasers:
405nm

, 

488nm

,

 

561nm

,

 

640nm
Laser Power (Measurement at 10x (in mW)):
405nm

 

(0.49mW)
488nm

 

(1.63mW)

561nm

 

(1.94mW)

640nm

 

(1.65mW)
To cite use of the Diskovery in a paper please refer to the following suggestion (and adjust the objectives used as necessary):
Fluorescence immuno-labelling in cells and tissue was visualised and imaged using a Nikon Plan Apochromat 20x/0.75 NA air objective and a Plan Apo Lambda 60x/1.4 NA oil-immersion objective on a spinning disk confocal microscope (Diskovery; Andor Technology, UK) built around a Nikon Ti-E body (Nikon Corporation, Japan) and equipped with two Zyla 4.2 sCMOS cameras (Andor Technology) and controlled by Nikon NIS software.