Confocal Microscopes: Yokogawa W1 Spinning Disk Confocal (412)
An inverted spinning disk utilizing the W1 Yokogawa spinning disk module designed for large-field and tissue imaging.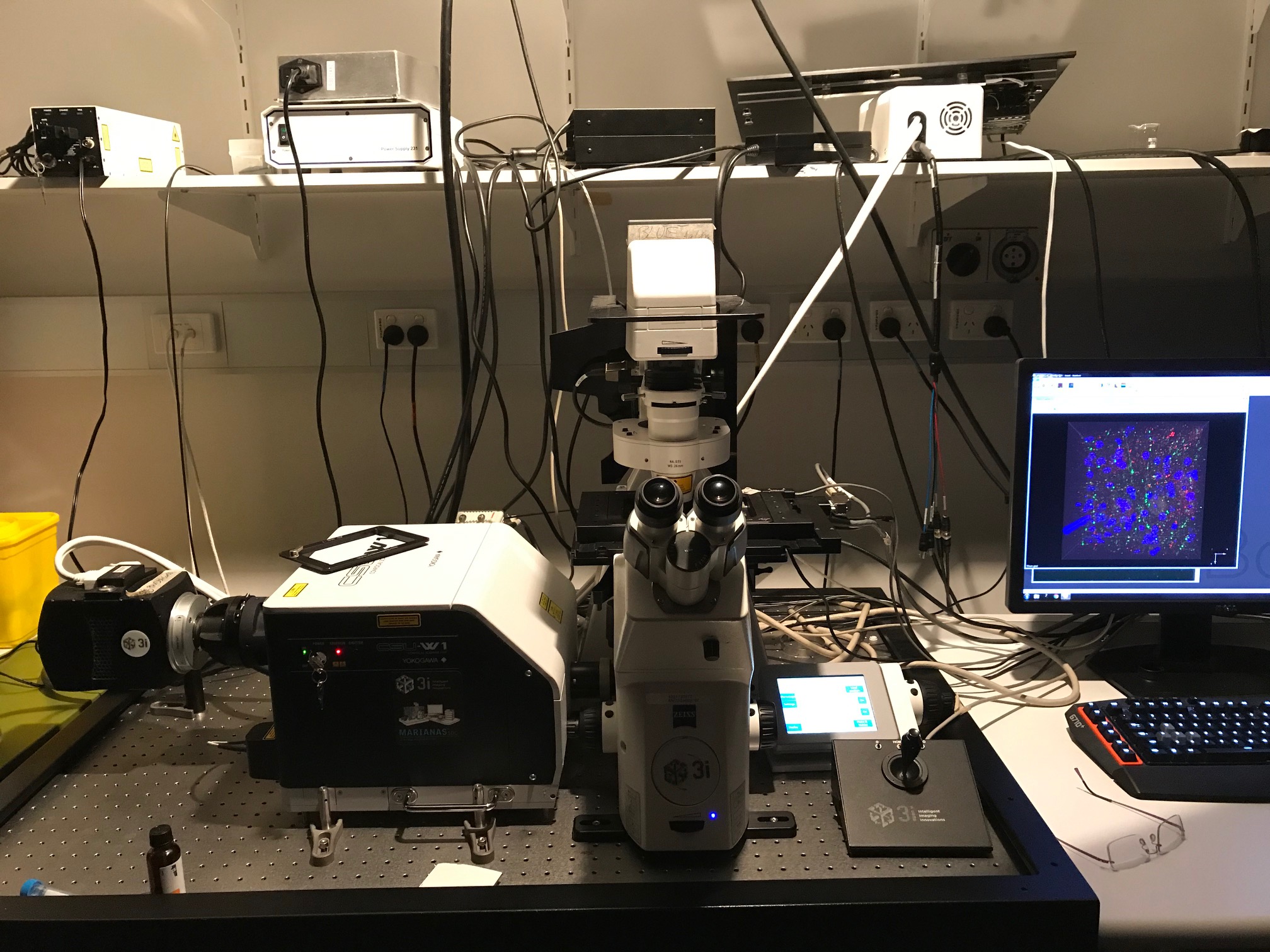 The W1 module was installed by Intelligent Imaging Innovations on a Zeiss Axio Observer Z1 and is controlled by Slidebook 6.0 software.
A Photometrics Evolve EMCCD camera is used for rapid, low-signal imaging and a Hamamatsu Flash4.0 sCMOS for large-field and tissue imaging.
This microscope is equipped with several high-end objectives suitable for imaging live cells and model organisms as well as fixed cells and tissues.
Features:
Equipped with Yokogawa W1 disk head.
Photometrics EMCCD for high-speed, low-light level imaging.
Hamamatsu Flash4.0 scientific CMOS camera with 2048×2048 chip enabling fast capture of large mosaic images.
Piezo z-drive and definite focus for rapid z-stack capture and focus stablisation.
Photoablation laser for axotomy (MicroPoint)
Objectives:
Air:
10x 0.45 NA / Plan-Apochromat / 520µm WD
20x 0.8 NA / Plan-Apochromat / 550µm WD
Water:
40x 1.2 NA / C-Apochromat / 280µm WD
63x 1.2 NA / C-Apochromat / 280µm WD
Oil:
63x 1.4 NA / Plan-Apochromat / 180µm WD
100x 1.4 NA / Plan-Apochromat / 140µm WD
Lasers:
Cameras:
Hamamatsu ORCA-Flash4.0 V2 sCMOS (photon conversion factor 0.46)
photometrics Evolve EMCCD
Guide to Photomanipulation with MicroPoint
When including this microscope in your methods:
" Cells/Tissue imaged on a spinning-disk confocal system (Marianas; 3I, Inc.) consisting of a Axio Observer Z1 (Carl Zeiss) equipped with a CSU-W1 spinning-disk head (Yokogawa Corporation of America), ORCA-Flash4.0 v2 sCMOS camera (Hamamatsu Photonics), 20x 0.8 NA PlanApo and 40x 1.2 NA C-Apo objectives. Image acquisition was performed using SlideBook 6.0 (3I, Inc)."