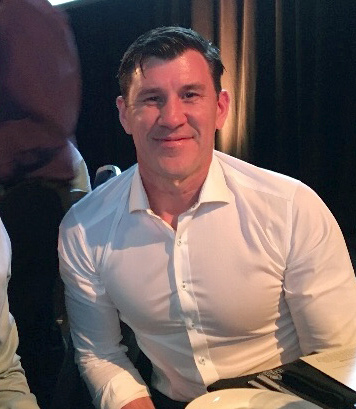 Martin Lang is no stranger to concussion. In his nine years playing NRL, including three State of Origin series representing Queensland, he suffered 10 concussions, some serious enough to knock him unconscious.
"I knew what the risk was but didn't really care, stupidly," he says.
Lang was known for his physical game, putting his body on the line whenever he hit the field.
"Everyone knows I wasn't blessed with a lot of natural ability and that's why I had to play like I did," he says. "If I didn't play like that, I probably wouldn't have played in the NRL."
"Was it a good decision or not? Time will only tell."
Back in that era, he says, shaking off a head knock and playing on was a badge of honour. "A player will always try and do the best thing by his team, and that was just one of the ways you went about doing that," he says. "When I suffered a concussion, I stayed on the field. You're not thinking clearly. You're sort of running around in a bit of a haze. But the next week  you're so worried about keeping your position on the team, and making the top eight, and finals."
Lang says the biggest issue was the amount of foul play in the game, and the lack of deterrent for dangerous tackles.
"I'd suffer a concussion from a head-high hit and I might spend a night in hospital – but a player wouldn't have any penalty at all. They'd blame my running style," he says. "Looking back, that's just ignorance."
But with more awareness about the seriousness of concussion, the sport has come a long way, Lang says. "It's a lot safer game than it used to be when I was playing."
He adds, though, that there's still a ways to go, pointing to the concussion of NRL's Billy Slater in 2017. "What I see something wrong with, is how these players are getting the head injuries in the first place. If it's foul play, that's what I do have a problem with," he says. "I do have a lot of trust in the medical people these days to make appropriate judgement of a player and when he should return to the field."
He believes that more research into concussion is very important for making sport safer. "Knowledge is power. The more we find out about something, the safer a game will be," Lang says. "The NRL has taken steps to do that. The more information we can gather the better."
Since hanging up his football boots, Lang has completed a Bachelor of Exercise Science and is now working in the medical device industry as a spine product specialist. So far, he hasn't noticed any long-term effects of his concussions.
"Fingers crossed it stays that way," he says. "I try not to worry about things I can't control."