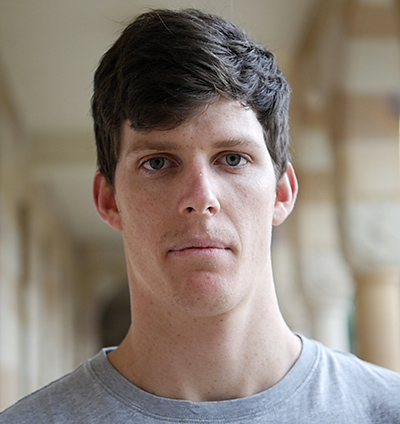 Justin Clarke has no memory of the head knock that ended his promising Australian Football League (AFL) career at the age of just 22. Nor can the former Brisbane Lions defender recall the three weeks following that concussion in January 2016.
"That period was a tough time because I wasn't able to do much," Clarke says, explaining that he had severe headaches, and spent most of that time in the dark, because his symptoms became worse in the light. "Every little thing sort of set me off, and I struggled to get outside much."
Clarke sustained the concussion during a routine training session, and footage of the collision appears innocuous. "I just got a little shove in the back and that propelled me into a bloke who was running
 in the opposite direction, into his knee," he says. The impact knocked Clarke unconscious for about 30 seconds. He had sustained concussions in the past, but soon realised this one was different. One month later, his symptoms still hadn't improved. His brother had gone through a similar experience and Clarke "had an inkling that things might not turn out for the best."
He was assessed separately by three doctors and each urged that he avoid future contact sport – a heavy recommendation for a young athlete with his entire football career ahead. Although his decision to retire, in March 2016 after four years playing with the Lions, was heartbreaking, it wasn't difficult. "When you have three specialists all tell you that you'd be mad to play footy again, then you'd be a stupid man to go against that advice," Clarke says.
The road to recovery has been long. Even now, he can't remember the preceding two months, nor much of the three months after the concussion. He struggled with headaches, mood swings, slurred speech and difficulty concentrating; he'd have to sleep after briefly exerting himself physically or mentally. Six months later, he still had symptoms and could barely manage to jog, but those gradually improved. More than two years later, he's thriving in his aeronautical engineering degree at The University of Queensland – though he can only handle moderate lengths of intense concentration before his brain needs to rest. And he still keeps the exercise intensity in check.
"It's just accepting what I have, knowing that I have my limits, and working within those limits," he says.
Clarke believes that managing how concussed athletes are diagnosed and treated is crucial. Objective protocols can help override a player's often-skewed self-assessment. "A player in that moment—whether it's for the best or not—they'll want to be back out there. I wanted to be back out there," Clarke explains. "It's about being able to control how much say that player has in that moment and being able to ensure their safety first and foremost."
Clarke says increased awareness of the symptoms of concussion is also important. "Amateurs experience concussions just as much as professionals do," he says, adding that his message to young players is, "there's no need to be a hero and go back out into the field if they've been concussed or have concussion symptoms."
Clarke doesn't hesitate in his praise of AFL. "Clubs are very, very aware of concussion and the AFL is very aware of it," he says. "AFL, to the best of my knowledge and from what I've seen, are right at the forefront of implementing the correct protocols and trying to take in what research has been done to optimise those protocols."
AFL is a contact sport, Clarke notes, and knocks are "part and parcel of the game that we love."
"Would I go out and play footy again as a junior all the way through? Absolutely! Would I let my kids do it? Absolutely!"
The key, he says, is making sure the people know the risks and that good management of the risks is in place.
"I think research and sport should be going hand in hand. It's such an important thing that we increase concussion awareness and research, so that people can keep on playing the sports they love."