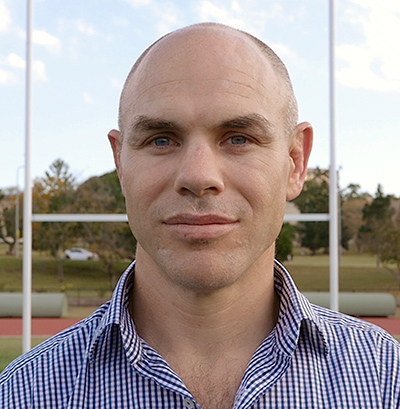 Former Wallabies player David Croft hung up his boots in 2008 after playing five internationals and more than 100 games for the Queensland Reds.
He's loved rugby from a young age and wants to see the game made safer for players, especially at the grassroots level.
Throughout his nine years playing professional rugby he experienced many concussions during an era of bravado about injuries.
"The culture in Australian sport – and I can only talk for rugby – playing with injury was a badge of honour, without a doubt," he says.
"To play at the high level I did, you have to be naturally competitive. You do it for your teammates. You do it for the jersey you're wearing. You do it for the fans. You do it for your family. That's because you believe what is best for the team is for you to be on the field and win that game."
"We've seen heroics, where people get up, stumbling over, and getting back into the line of defence and making numerous tackles," he says. "And as Australians, that's what we seek in our sportsmen. But that's something we have to address and have to shift."
With the benefit of hindsight and education, Croft sees the importance of taking head injuries seriously.
"To me, brain injury is no different to a corked thigh or a busted knee," he says. "It should be treated the same."
Concussion: don't change the game but make it safer
But, Croft emphasises, he doesn't want to change the game. "I think the game is beautiful. What I loved about the game so much was the confrontational nature of it," he says. "And without a doubt injuries occur. But what we have to move away from is promoting the heroics of a player being injured and continuing on."
"The way we manage people after they sustain an injury through that confrontation nature of sport is something that we definitely have to address,"
Rugby has gone through "some dramatic change" in concussion management, particularly in the last year or two, Croft says, and particularly at the elite level.
"I think they're doing enough at the senior level, and that can be improved. But they're not doing enough at the grassroots. The education of players, coaches and parents at the grassroots level is crucial when it comes to concussion," says Croft.
"I'm not worried about the senior level. I'm worried about my mates who play backyard footy on a Saturday or Sunday afternoon, who get a head knock and turn up to work on a Monday morning and suffer the side effects."
Sports will have done enough, Croft says, when there's wide knowledge of concussion management and a change in culture around heading off the field when injured.
"Success, in my eyes, is when a guy in a club game sees a mate who has a head injury and says 'go off' rather than a doctor or coach stepping in. The outcome of a game is always secondary to a player's welfare."
Croft is passionate about making the game safer for future generations.
"Rugby has given me so much," he says. "I'd be so comfortable knowing my son is exposed to a wonderful sport like rugby - but with a framework in place that can protect him if ever an instance arrives where he may suffer a head knock."