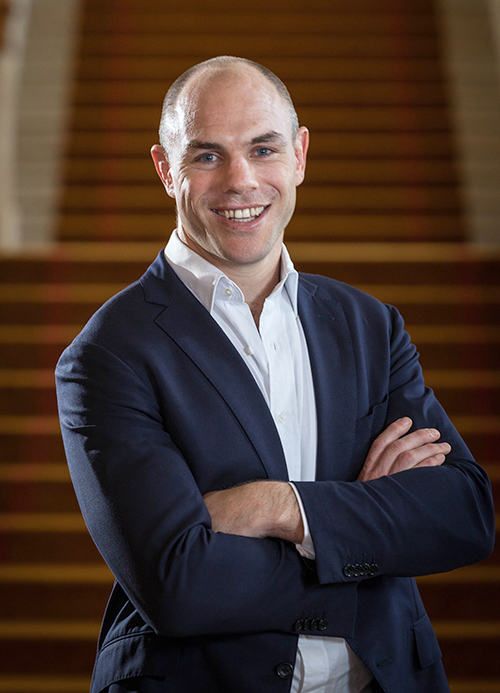 Former rugby union player David Croft hung up his boots in 2008 after playing five internationals and over 100 games for the Queensland Reds. His love of rugby from a young age has now seen him set his sights on the issue of concussion and how the sporting community can make the game safer, especially at a grassroots level.
"I have vivid memories, as a six-year-old, of standing on the sidelines with my family and proudly watching Dad play flanker in the Brisbane Brothers' Premier team," says David.
This encouraged David to follow in his father's footsteps when he started playing rugby at eight, igniting his love for the game, which is still as strong today.
Throughout his rugby career, David has seen close friends retire as result of concussion and suffer from other more severe consequences, driving him to understand more about the condition.
Improving rugby safety at the grassroots level
"I believe that the education of players, coaches and parents at the grassroots level is crucial when it comes to concussion," says David.
"My passion for sport has always resided at the club level where the game is very much fostered and the support base is. They're the people who are out on weekends playing rugby because they love the sport and want to feel part of a community."
David feels that the lack of funding for community rugby means that access to medical professionals is minimal and education is not broad.
"When it comes to concussion, mates should be protecting mates and people should be aware of the potential situation they are putting their friend in if they are letting them play on. Success in my eyes is when a guy in a club game sees a mate who has a head injury and says 'go off' rather than a doctor or coach stepping in. The outcome of a game is always secondary to a player's welfare," he says.
David is impressed by the significant change in the approach to concussion at the elite level over the past three years.
"In a lot of ways, the NRL has led that change and rugby and AFL have followed but at this point in time there are still significant gaps. Processes and protocols that are in place aren't based on research and that is where the focus needs to be to close the gap," says David.
Not changing sport, just changing outcomes
One of the aims of research at QBI is to establish a sideline blood test that can determine the severity of the concussion and provide guidance on the best way for players, at all levels, to ease back into sport when they recover.
"The #nobrainnogame campaign is definitely not about changing sport but changing the outcome. Sport has done wonderful things for me, and continues to make a great contribution to society, but it is about being aware of how to identify and manage players back into sport following concussion."
David believes the greatest outcome of this campaign is shifting people's perceptions and changing the stigma around concussion.
"In my playing days, I was always of the belief that you don't give a mug half a chance, so you get up and put your boots on and you play again because you wanted the team to win and you didn't want to let your mates down," he says.
"In hindsight, my advice to players in general, from grassroots to elite, is just to step back and take a break. It's a long game we're all playing."
"In ten years' time when my children start playing sport, if research has identified the short- and long-term impacts of concussion, I believe we can ensure that our kids can safely keep playing contact sports like rugby," he says.
"Life is not a sprint, it's a marathon. We're talking 80 years, not 80 minutes, so keep it in perspective and look after your mates."