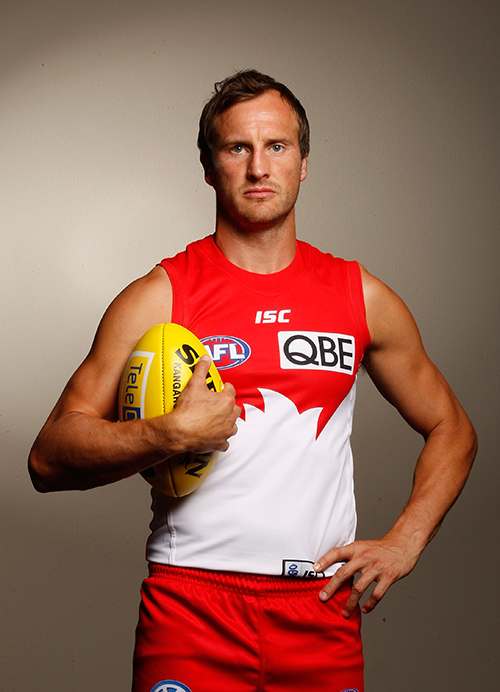 During more than a decade playing first grade with the Sydney Swans, retired Australian Football League (AFL) star Jude Bolton experienced several major head collisions.
He concedes that throughout his career he prided himself on resilience at the expense of his brain and once wore concussion as a badge of honour. "That meant taking any hits and just getting up and getting on with it," Bolton recalls. "I remember my grandfather always saying, 'It's better to wake up in an ambulance than to duck out of a contest.'" 
But concern about the long-term consequences has since made him an advocate for player welfare. "It was actually my same grandfather who then said to me after I sustained two concussions in one game – and played the following week – 'You don't want to be a dribbling mess when you're an old man'," Bolton explains. "A brain injury is not like any other injury. Each head knock is different and sometimes the innocuous ones can be the worst.
"I know that having sustained multiple concussions puts me in a high-risk category. I would hate to think that the way I played may contribute towards potentially having something like dementia, CTE or depression later in my life."
Don't change the sport – make it safer
Bolton emphasises, however, that he doesn't want the sport to change. "AFL is a tough and sometimes brutal sport that I love," he says. "I never want to see the physicality taken from the game, nor do I ever want families to not allow their kids to play sport. There are so many health issues that kids and adults have just through not being as active as they should."
Bolton says better protocols and increased awareness are important steps forward and senior players sitting out of the game for a week, or not returning to the game after a concussion, are wonderful examples for young players to look up to.
He believes science is the key to improving player safety: "I would love to see the research be to a point where we have absolute certainty on the protocols and that kids, families and all sporting clubs know what to do if a concussion is sustained, and have an ability to limit any long-term effects.
"In the end it is just a game. You only get one brain."