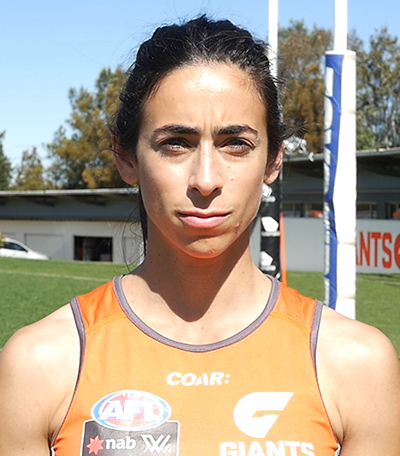 Amanda Farrugia is Captain and a midfielder for the Greater Western Sydney Giants in the AFLW league. She's been playing Aussie Rules for seven years and has so far avoided concussion - and is keen not to change that.  
"I've been fortunate not have had a concussion just yet," Farrugia says. "I've got a fairly good idea about what concussion does look like, and hopefully I never have to draw on that knowledge for myself."
AFL is a physical game, she says, and the best players are the ones who put their bodies on the line. "When you push physically that way, it's testing your mental capacity as well and how much you're willing to give and commit and put in. And I like pushing myself in that regard," she says.
Being in the midst of the action can put a player in a vulnerable situation.
"I'm not a particularly tall player which means I have been used as a bit of a step ladder at times for players to jump on my back, and that can obviously expose you to things like a knee in the back of the head," she says. "So there's always those risks but you try not to think about them when you're playing."  
Farrugia has seen a positive change in the way AFL is addressing concussion risk.  "I think the AFL is definitely making some serious inroads in ensuring player safety and welfare. In the last five years I've seen how sport has changes its policies around concussion.
"Back in the day having an invisible injury meant you didn't have an injury at all and you were going back out there. These days they understand there's long-term implications for the health and safety of our athletes.  "It's good that the AFL and other organisations are understanding that if you get a bump to the head you need to go through all the standard procedures and make sure you're ready to step out there. And if not, you can't return to the field. It's just the way it is."
"The rules of the game also preserve the head area of a player who's doing something quite courageous on the field, so any contact at all over the shoulder is heavily penalised in the game," she says. "That means safety of the players is paramount and we can out there and put our bodies on the line without constant fear of our head being impacted.
If there's a choice between putting herself on the line for the team or her physical health, the decision is clear.
"At the end of the day I've got to live with my brain for the rest of my life and football's not going to be around forever. So if it comes down to making a choice about my long-term safety, in relation to the most important organ - my brain - then I'm not going to sacrifice something so important. Football won't pay the bills forever, but my teaching will. And I need my brain for that."