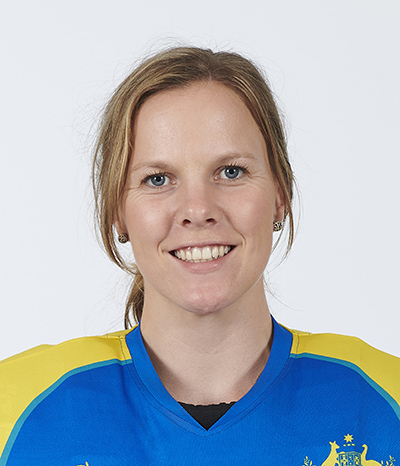 Jocelyn Bartram was destined for a career in sport. She was an active, outgoing child who always wanted to be involved in any sporting activity that was going and eventually followed in the footsteps of her mum and brother who played hockey.
"Despite playing soccer, water polo, basketball and tennis during my childhood and adolescence," Jocelyn recalls, "hockey has always been my most loved sport and passion."
Through years of perseverance and hard work, she finally caught the attention of national selectors and has been part of the development squad for the Australia women's national field hockey team – the Hockeyroos – since 2014. 
Concussion common on the hockey field
Despite its sticks, hard balls and the furious pace at which it's played, hockey is not a contact sport and so it's not normally an activity that springs to mind when concussion is mentioned. And yet Jocelyn has experienced concussion regularly on the hockey field.
"My first experiences with concussion and hockey came at an U21 Nationals when a teammate missed six consecutive games due to a concussion and at an international level when I witnessed a Great Britain team member escorted away in an ambulance after she fell and her head collided with an opponent's knee, resulting in a major concussion," Jocelyn says. "Personally, just a few months ago I missed a training session after I collided with a team mate in a contest for the ball, where my helmet was knocked off, and I suffered a reasonable headache. I was monitored for the remainder of the day and concussion-tested to make sure I hadn't suffered any further damage."
Awareness of concussion's risks
Jocelyn was attracted to QBI's concussion campaign because growing up as a hockey goalkeeper, with a parent in the medical profession, she was always very aware of both the short- and long-term potential effects of concussion. 
"As I've grown older and started studying exercise and sport science, the importance of concussion awareness and treatment has only become more prevalent," she says. "I would love the opportunity to educate a wider audience about the importance of looking after your brain whilst playing contact and non-contact sport at all levels."
In hockey, players are at risk of colliding during play when they go in to contest the ball, during a low defensive tackling situation. Goalkeepers are at even higher risk due to the nature of the position.
"Although I feel I have a good understanding of the range of effects that concussion can result in, I think some sportspeople are not aware but also feel 'that it won't happen to me', especially in non-contact sports, where concussions aren't as regular as other more visible injuries," Jocelyn says. She believes that just because concussion isn't a visible injury, it shouldn't be taken lightly.  "It's important to have a strict concussion protocol in place and, although it may feel like a bit of overkill at the time of your concussion, it will make all the difference in the future when you have moved on from elite sport and are living the next chapter of your life."