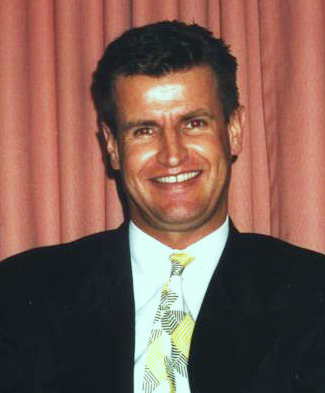 Nick Rushworth is more familiar than most executives with the effects of traumatic brain injury (TBI). Twenty years ago, The CEO of Brain Injury Australia was in a major bicycle accident involving a head-on collision with a car. He was hit mid-leg, breaking both his femur and the bicycle frame.
"I was catapulted over the bonnet of the car and took the full force of the impact near my right ear," Rushworth says. "I pretty much fractured my skull right around."
Traumatic brain injury has long-term effects
Motor vehicle accidents are the second-most common cause of TBI in Australia, after falls. Depending on its severity, TBI can cause a range of long-term disabilities and changes in feeling, thoughts and behaviour.  
Rushworth has no memory of his accident — nor of the proceeding two weeks he spent in hospital. "My almost-continuous memory starts again when I was discharged from hospital into rehabilitation, but even then, it was very fragmented," he recalls now.
He also suffered short-term memory impairment. "I used to tell anyone who cared to listen about the story of my accident, and tell them repeatedly," he says.
A neuropsychological assessment brought sombre news: it found "that my intellectual capacity, my ability to concentrate, to plan, to organise, was going to be 'radically impaired'."
Despite this, Rushworth began a graded return to work as a journalist at the ABC in Sydney, and was back working full-time six months following the accident. Initially, he found the noise of the busy newsroom environment challenging, but feels fortunate that his working life was able to continue more or less unaffected.
"I had a really easeful return to work, given the severity of my injury," he says, adding however that this isn't the case for the vast majority of people who suffer a brain injury.  "For a lot of people, the lack of public awareness about brain injury means that, in a return-to-work context, their inability to concentrate, to pay attention, and their fatigue — which is a huge issue post–brain injury — is often mistaken for laziness."
Behavioural problems, Rushworth adds, are sometimes perceived as simply being "who've they've always been as a person", a misconception that he says is "re-disabling" for the injured individual.
More than 700,000 Australians live with acquired brain injury
Rushworth is now the Executive Officer of Brain Injury Australia, the peak body for more than 700,000 Australians living with acquired brain injury. In this role, he raises awareness about the causes, types, and effects of brain injury, ranging from concussion in sport to more severe brain injury resulting from assault or accidents.
"The aim," he says, "is to make someone's return to work or return to community life as easeful as it was for me."