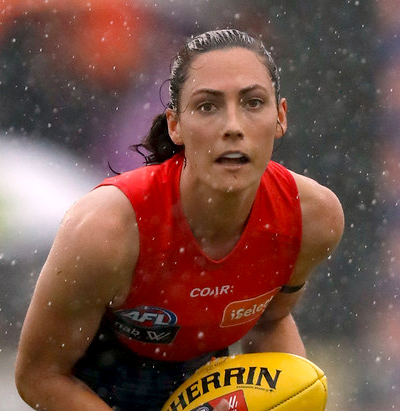 Melbourne Demons AFLW defender Meg Downie has loved sport since she was a kid, spending her childhood running around on the dairy farm she called home in the small town of Shady Creek in regional Victoria.
She kicked off her competitive sporting career at age 8, playing on the boys under-13 AFL team, at the encouragement of her mum.
In her teens, she switched to basketball, but her love of footy drew her back to the sport.
"I love the sense of camaraderie you develop with your teammates and the adrenalin and happiness you get from achieving more than you think you ever could," she says.
Like many athletes, Downie isn't afraid to put her body on the line. And in February 2017 she copped a double whammy in a match against Collingwood – she suffered hamstring rupture and moments later was knocked out cold by another player.
It's not the first concussion she's had, but it's the worst. The footage of her unconscious body on the field is hard to watch.
"I remember not being able to talk properly or move," she says. "It didn't hurt; I just felt powerless."
The concussion also affected Downie in her day job at ANZ. "It took for a long time to be able to focus at work again," she says. "It was perhaps two to three months after the incident that I regained my normal levels of concentration."
Fortunately, she was cleared of any serious head injury, though the hamstring injury put her out for the season.
Having to watch her teammates from the sidelines and start her fitness training again from scratch was devastating, she says.
When Downie did make her comeback, she was initially a little anxious about potential head knocks. "I made sure I learned the right ways to approach contests and protect myself so that fear slowly wilted away," she says.
Because her concussion was manged well, she's not too worried about the longer-term impacts to her brain. But if she had her time again, she'd learn more about how to protect her body, she says. "Young players should be aware of the long-terms impacts of concussion," she says.
And that awareness will be helped by concussion research, she adds. "It's important to understand the best ways to treat and prevent concussion so athletes can continue to play sport in a safe environment," she says.