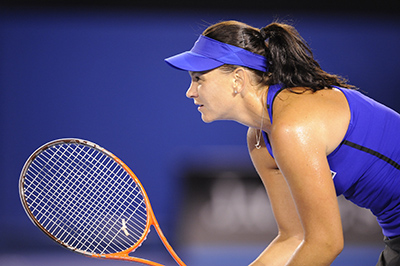 Tennis is not usually a sport you'd associate with concussion, but for Casey Dellacqua the injury is all too real.
The former dual Olympian, World No. 26 singles and World No. 3 doubles player suffered a concussion late in a match in Beijing in October 2015 that put her out of action for almost a year. In her desperation to reach a ball, she tumbled back, unable to get her hands down in time to stop the momentum of her head hitting the hard concrete court. (See video, below).
"I remember thinking, I'll be ok. I'll play a couple more points," she says. "Afterwards I walked off the courts and was throwing up." Now, more than two years later, she still doesn't remember those points, nor the ambulance ride to the hospital. The days and weeks after are "still very vague," she says.  
Not having experienced concussion before and not playing a sport where concussion is common, Dellacqua expected she'd be back on the court fairly quickly. "I thought, in a few days, I'll be right," Unfortunately, she was in for a long recovery. Her symptoms worsened over those initial days and weeks.
"I couldn't open my eyes and was sleeping a lot," she says. "I had to stay in a dark room and was really sensitive to light – I couldn't watch TV or use my phone. I felt like my head weighed a thousand kilograms."
"Every time I'd get up and walk around, I'd have a thump in the back of my head. I couldn't remember anything."
Despite having gone through shoulder and foot injuries with surgeries and months of rehabilitation, the concussion proved to be the most challenging injury of her career.
The most difficult part, she says, was the uncertainty around the length of the recovery. "There was no time fame on it – it was just a long, slow process," she says. "As that drew out and got longer and longer, I became a bit more anxious. It was an emotional rollercoaster."  
After a few months the physical symptoms went away, but she was not where she needed to be, mentally, to return to such an elite level in such a mentally tough sport. Having time off when she was playing so well, perhaps the peak of her career was hard, she says. "There were many times I thought I wouldn't play again."
In the end, the concussion hastened her decision to retire from singles tennis. "I just felt like I was never the same," she says.
But Dellacqua was determined not to end her career on that note – she wanted to go out on her own terms. She made a return to doubles tennis in 2017, climbing back up into the World Top 10 ranking. In April 2018, she retired completely from the sport.
She's grateful the WTA had good concussion protocols in place, even though concussion is a rare occurrence in tennis. "It was very smooth sailing for me," she says of her concussion management.
Dellacqua also wants so see more research into concussion. "As the years go by there's so much more knowledge about the long-term damage of concussion," she says. "Research is going to benefit sport and especially athletes, which is really the priority."
Video: the events leading to concussioon the 2015 match in Beijing.