A Queensland Brain Institute researcher will be heading to the US after their work into how anaesthesia disrupts brain function was awarded a Fulbright scholarship.
Adam Hines was one of five University of Queensland students and alumni to be announced as part of the prestigious academic and cultural exchange.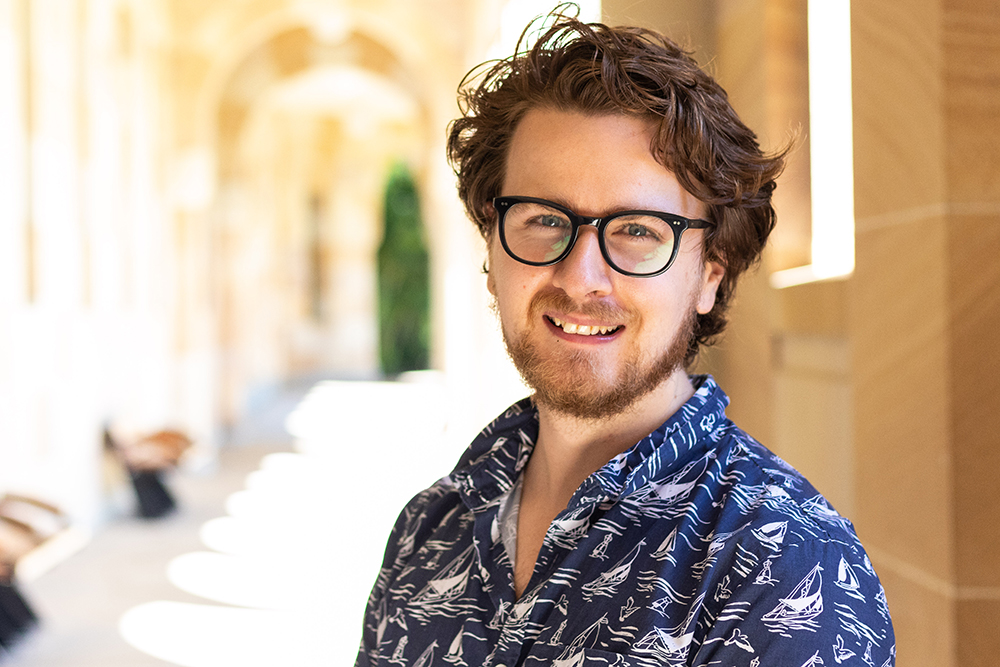 Mr Hines will go to Philadelphia to study how general anaesthesia disrupts normal brain function by preventing the release of chemicals like dopamine and serotonin, a process called neurotransmission.
"Despite being used for a little over 150 years, we're still not entirely sure how these drugs work, and this research will hopefully shed light on their effects on the brain and body," Mr Hines said.
"We hope it will also potentially lead to developing newer, safer drugs for people that can't have general anaesthesia, such as those with Alzheimer's or Parkinson's disease."
Mr Hines said he was excited to start the program in the US.
"Becoming a Fulbright Scholar has been deeply profound for me, and I am really honoured to be selected and recognised for the program.
"It is an incredible privilege, and I am proud to be able to contribute to a greater understanding of how general anaesthesia works."
Emily Westwood from the Institute for Social Science Research has received a Fulbright scholarship to support her PhD, examining how exposure to light impacts children's sleep.
"My research focuses on the effects of environmental light exposures, including daylight and artificial light throughout the day, on sleep and circadian processes in young children," Ms Westwood said.
"This work will add to growing evidence of the importance of light for children's development, and lighting modification as a way to support sleep and health in children and families.
"As a Fulbright Future Scholar, I will work with global leaders in this field at the University of Colorado.
"This study will help me to contribute to ground-breaking experimental research measuring light and sleep for young children in home environments."
Fulbright an opportunity to make change
Dr Honor Magon from UQ's Faculty of Medicine specialises in occupational medicine and digital health, and will continue her research and clinical work at Stanford from June.
Her research involves exploring how hospitals and health care services can use emerging technologies to improve wellbeing.
"Post COVID, the world is becoming more aware of health care worker burnout," Dr Magon said.
"While we can undertake resilience training and other initiatives, the real question is how do we get the right care to healthcare workers?
"How can we use our emerging technologies to provide them with more timely, accessible, personalised care?
"My research is also going to explore governance structures within hospitals, and how we can help people be safe at work.
"This scholarship is a wonderful opportunity to be able to make a greater change."
PhD student Isaac Tucker, from the Institute for Molecular Bioscience, is harnessing molecules found in the venom of Australian spiders to develop treatments for neurological and gastrointestinal diseases, and will travel to Boston to study at MIT and Harvard as part of his scholarship.
"This Fulbright Fellowship will allow me to take these molecules to the best laboratory in the world for developing ways to deliver medicines safely through the body to their target, expediting the progress of our drug candidate into the clinic," Mr Tucker said.
The 2022 Fulbright Scholarship recipients from UQ include:
Dr Lachlan Jones, The University of Queensland, Environmental Ecology - Fulbright Future Scholarship (Postdoctoral)
Emily Westwood, The University of Queensland, Social Science - Fulbright Future Scholarship (Postgraduate)
Adam Hines, The University of Queensland, Neuroscience - Fulbright Future Scholarship (Postgraduate)
Isaac Tucker, The University of Queensland, Biotechnology - Fulbright Future Scholarship (Postgraduate)
Dr Honor Magon, Metro South Health/The University of Queensland, Clinical Informatics - Fulbright Future Scholarship (Postgraduate)