University of Queensland students have swapped a summer holiday at the beach for time in the lab as the annual UQ SEC Summer Research Program began at the Queensland Brain Institute.
The students started late last month and will continue through to February 2020.
The Program will provide 12 students with an intensive, hands-on experience of working on research projects under the tutelage of several QBI researchers across nine labs.  QBI Lab Groups participating in the 2019-2020 Program include: Dickson, Goodhill, Marshall, Mattingley, Meunier, Richards, Tye, Walker, and Wright.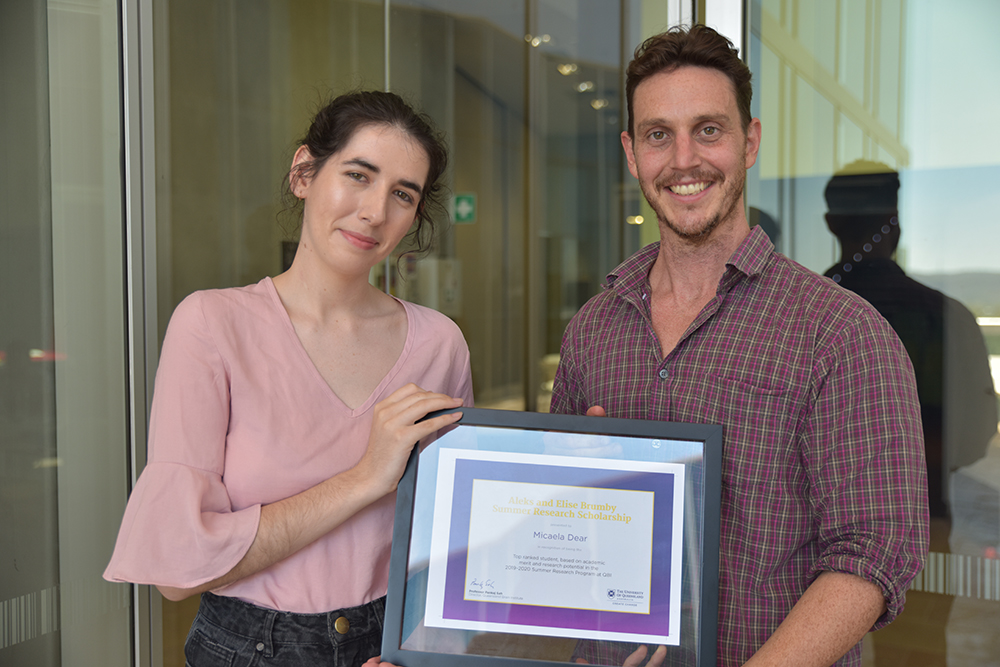 The Summer Program is supported by the Aleks and Elise Brumby Summer Research Scholarship, which is awarded to the highest ranked participating student.
The Aleks Brumby Summer Research Scholarship was established by Mr Glen and Mrs Aija Brumby in 2011 after the death of their son, Aleks, a past Chemistry student at the University of Queensland. It was renamed in 2018 in memory of their daughter Elise, who passed away during that year. 
Mr and Mrs Brumby have generously provided financial assistance to the scholarship every year since 2011 in memory of their children.
"We thought that if we were to do something, we wanted it to help another young person, like Aleks, with similar interests to him, and help to encourage them in their studies," Mr Brumby said.
"His death [was] an unbelievably awful experience, so hopefully we can play some small part in encouraging people to undertake brain research and help us understand the mind."
This year's recipient, Bachelor of Psychological Science (Honours) student Micaela Dear, will be conducting a 10-week research project titled Metamorphopsia and Face Recognition in the Mattingley laboratory.
Ms Dear will be supervised by Dr Will Harrison and Professor Jason Mattingley.