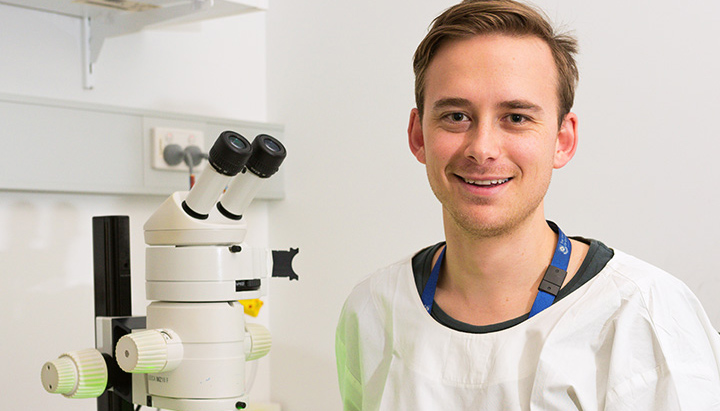 Queensland Brain Institute researcher Dr Sean Coakley is one of six University of Queensland scientists to receive a total of almost $3.6 million in federal funding to continue work on dementia.
The six were announced today as fellows in the joint Research Development Scheme run by the National Health and Medical Research Council and the Australian Research Council.
UQ's Deputy Vice-Chancellor (Research), Professor Robyn Ward, said the number of people with dementia in Australia was projected to triple by 2050.
"Many elderly Australians already face the challenges of living with dementia," she said. "This causes hardships for their families and carers, and as the number of diagnoses rises, these diseases increasingly will be a burden on the health care system.
"These grants will allow UQ researchers to work towards the scientific discoveries that will underpin the development of new treatments for Alzheimer's, Parkinson's and Huntington's diseases, and their plethora of symptoms known under the collective term of dementia."
In total, 76 dementia researchers received $43 million in the funding package, which was jointly announced by the Minister for Health and Aged Care, Ms Sussan Ley, and the Minister for Education and Training, Senator Simon Birmingham.'
Dementia is the second leading cause of death in Australia and more than 320,000 Australians are living with Dementia.
UQ's new dementia research fellows
Dr Sean Coakley, from the Clem Jones Centre for Ageing Dementia Research at the Queensland Brain Institute, is researching degeneration of the axon, the longest process of a neuron. This is a key early pathological hallmark of Alzheimer's disease and other dementias. Despite being described more than 100 years ago, a basic understanding of the cellular and molecular mechanisms regulating axonal degeneration is still lacking. Using the small nematode worm C. elegans, a powerful genetic model system, this research project aims to discover molecules with a protective effect on the axon. The results from this study will provide a detailed understanding of how axonal degeneration occurs, and how it can be prevented or delayed, potentially leading to the identification of novel molecular targets for dementia-related diseases. Dr Coakley's project, Discovering novel molecules that regulate axonal degeneration, has received $588,622.
Dr Gabriela Bodea, from the Mater Research Institute-UQ, is researching Parkinson's disease, a neurodegenerative disorder that affects one to two per cent of the world's population. So far, there is no cure for Parkinson's. The disease can lead to dementia, and Dr Bodea's research is focusing on identifying the missing link between genetics and environmental factors in this progression. Through different experiments using post-mortem brain samples from Parkinson's patients and mice, Dr Bodea is working to identify mutations in a class of DNA element sequence, called LINE-1 retrotransposons, as a "bridge" between these environmental and genetic factors. Dr Bodea's project, L1 retrotransposition: the missing link between genetics and environmental factors in Parkinson's disease, has received $604,644.
Dr Daniel Croker, from UQ's School of Biomedical Sciences, will work on research titled Targeting neuroinflammatory pathways as novel treatments for dementia.  To date, there are no treatments that can slow the progression of dementia, and thus new therapies need to be identified to improve patient outcomes and mitigate this impending health care crisis. Neuroinflammation has been widely associated with a number of dementia-related diseases and thus represents an ideal therapeutic target. Neuroinflammation in dementia is driven by the accumulation of toxic metabolites in the brain which activates the innate immune system. This project will develop and utilise selective drugs blocking innate immune pathways in mouse models of dementia, which could potentially lead to the development of new drugs to treat dementia. Dr Croker's research has received $600,116.
The School of Medicine's Dr Paul Gardiner, is researching recently identified links between older adults' sitting time, poorer cognitive health and Alzheimer's disease. The links between cardio-metabolic health, premature mortality and high levels of sitting time in older adults are well established. To address incomplete data on the links between sitting time, Alzheimer's and cognitive function, Dr Gardner will collect data from a new cohort of frail older adults. Ultimately he aims to develop programs and resources that have a clinical impact and can inform policy through evidence-based recommendations on older adults' sitting time and brain health. Dr Gardiner's project, Stand up to dementia: Reducing prolonged sitting to improve cognitive function in older adults, has received $603,901 in funding.
Dr Rajesh Ghai from UQ's Institute for Molecular Bioscience will use his fellowship to investigate how mutations in key proteins cause Alzheimer's and Parkinson's diseases. Both diseases are both caused by an accumulation of toxic proteins, a process moderated by the SNX27-retromer protein complex. Dr Ghai's research will provide insights into how SNX27-retromer could be targeted by drugs to stop the overproduction of these toxic proteins as a treatment for these devastating and incurable diseases. Dr Ghai, who is currently based at the University of New South Wales, will use the fellowship to return to UQ's Institute for Molecular Bioscience, where he undertook his PhD. Dr Ghai's project, Towards Targeting the Endosome in Neurodegenerative Disease, has received $601,959.
Dr Theresa Scott from the School of Medicine is researching dementia and driving. She says the issue presents complex emotional, social, legal and ethical ramifications and has serious public health risks. Drivers with dementia have a risk of crashes two to eight times higher than that of other older adults. Dementia has a profound effect on capacity for driving, and stopping driving impacts health and quality of life for people with dementia and their carers. GPs are tasked with reporting patients with dementia who they believe are a risk to public safety, putting them in an uncomfortable ethical position. Dr Scott's project, Rolling it out: Targeted translation intervention to improve driving cessation outcomes for people with dementia across metropolitan and regional areas, has received $594,644 in funding.
Media: QBI Communications, communications@qbi.uq.edu.au. For all other enquiries contact Fiona Cameron, communications@uq.edu.au, +61 7 3346 7086