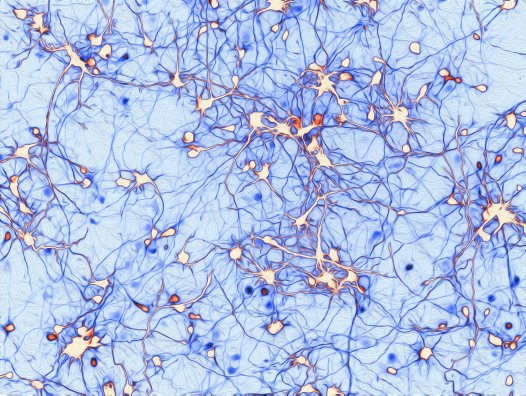 No-one would argue that nature's beauty is art, but for one Queensland Brain Institute researcher, it's also prizewinning art.
The National Health and Medical Research Council will tonight present its biennial Science to Art Award to Dr Victor Anggono, a group leader at QBI and a member of the Clem Jones Centre for Ageing Dementia Research.
Dr Anggono's winning entry shows neurons extending their axons to establish synaptic connections to form neural circuits.
"This neural activity is essential for brain function such as learning and memory," Dr Anggono said.
"I'm honoured to be selected for this award, but the real excitement comes from being able to share more widely the beauty of scientific art that as a researcher I am privileged to see every day at work".
"I hope my photo and this award will increase awareness of the importance of brain research."
Art meets science
Dr Anggono and his research team are primarily interested in dissecting out the cellular signalling pathways that control the release of neurotransmitters from presynaptic neurons and the trafficking of neurotransmitter receptors on postsynaptic neurons.
The NHMRC said: "Such research is important not only to improve our understanding of the fundamental biological process of synaptic transmission that controls synaptic plasticity, learning and memory, but it may also provide novel insights into the development of better ways to overcome synaptic dysfunctions that are responsible for the cognitive decline in dementia."
Dr Anggono said his involvement in scientific art started with the 2014 QBI Art in Neuroscience competition.
"I must thank the members of my laboratory who encouraged me to enter that competition," he said.
Dr Anggono said the NHMRC award-winning image was cultured rat hippocampal neurons marked with plasmid-encoding green fluorescent protein. 
"The image was taken at eight days in vitro, in which the neurons are yet not mature and are still developing by sending out projections – axons – ready for establishing synaptic connections," he said.
"The image was taken using a normal upright fluorescent microscope at 20X. The image was pseudo coloured and further processed with a filter in Photoshop." 
Dr Anggono's image was a Eureka Prize finalist this year.
Federal health minister Ms Sussan Ley will present Dr Anggono's award at the NHMRC Excellence Awards dinner in Canberra.
In a statement announcing the award winners, Ms Ley said the Government was committed to enhancing health and medical research in Australia following the "landmark" Medical Research Future Fund passing through the Parliament this year.
Media: QBI Communications, communications@qbi.uq.edu.au.