Traumatic brain injury (TBI) occurs when an external force traumatically injures the brain, often as a result of traffic accidents, sports injuries, or violence. The effects of TBI can range from a concussion to severe brain damage and even death. Signatured with a complex pathophysiology, TBI encompasses changes to molecular, cellular, functional, and gross anatomical structure with a cascade of deleterious physiological changes following the initial impact. Recent studies have shown TBI to be associated with an increased risk of early-onset dementia, as key protein aggregates, which incidentally also play a role in Alzheimer's disease and frontotemporal dementia, have been reported in patients who have sustained a TBI.
Previously, Dr Nasrallah has demonstrated extensive experience in the application of multimodality imaging methods such as magnetic resonance imaging (MRI), especially resting state functional MRI (rsfMRI), positron emission tomography and electrophysiology, to understand brain function in rodents and humans. 
She was able to demonstrate, for the first time, the potential to detect changing resting state networks following a cognitive task in the sedated rodent brain using rsfMRI. She was also the first to detect such resting state functional connectivity networks in the mouse brain.
Having moved to QBI in late 2015, her laboratory aims to harness multimodality methods to identify and comprehend the fundamental mechanisms triggered following TBI. This will allow mapping of structural, functional, metabolic and molecular changes in the brain in an attempt to cross-link imaging metrics with behavioural measures and protein biomarkers, giving insight into the pathophysiology of TBI and its link to dementia. The scope of the research will include: (1) development and validation of animal models of TBI, (2) development of specific imaging tools and diagnostic molecular biomarkers of TBI and dementia, and (3) translation of novel imaging tools and biomarkers to clinical investigations.
Group leader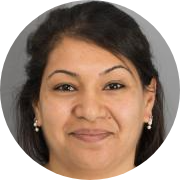 Dr Fatima Nasrallah
MAIC Senior Research Fellow - GL, Queensland Brain Institute
  +61 7 344 33004
  f.nasrallah@uq.edu.au
  UQ Researcher Profile
Research Areas
Traumatic brain injury (TBI)
Early-onset dementia
Concussion