A chance to help mates and support the game he loves has inspired a young man to become the first participant from his school to volunteer for a Queensland Brain Institute (QBI) research study aimed at making rugby a safer sport.
Brisbane State High School student Trent Picot has played rugby since he was a child and has designs on claiming a spot in the school's First XV team after trialling for the squad in late 2022.
So, when he and his family heard about QBI's Associate Professor Fatima Nasrallah's study into blood biomarkers to test the severity of concussions, they saw an opportunity to help a game that has given them so much.
"I love that rugby is a team sport, and it's something I can do with my mates," Trent said.
"I heard about the study through mum, and I really wanted to support the future of rugby."
Trent's mother, Valerie Picot, said despite her son being apprehensive at first, he quickly saw how his participation in the study could prove beneficial.
"I think it's important because there's not much known about concussions," Valerie said. "Especially for young people playing rugby.
"We talked about why the study is important, but we stressed that if he didn't want to do it, we wouldn't force him."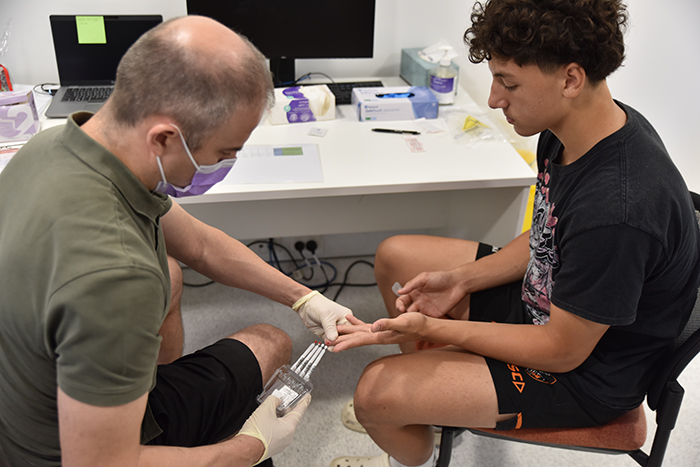 Trent, under the supervision of the study coordinator, completed a 20-minute program of tests, including for memory, spatial awareness, and a blood test, to determine his baseline.
And should he suffer a concussion during the season, he will return to perform the same tests at set intervals, giving the research team incredible insights into how concussion impacts the brain.
Associate Professor Fatima Nasrallah explained the research team is looking for concussion-specific biomarkers that can indicate the severity of a concussion and the brain's recovery from it.
"By combining and analysing the data gathered from magnetic resonance imaging, cognitive testing and blood samples, we aim to identify a biomarker that will help us monitor brain injuries and the healing process over time," Professor Nasrallah said.
"We need as many GPS student volunteers as possible because we compare each and every individual after a concussion to their own baseline prior to the concussion.
"This gives us a more accurate assessment of every individual given that every person is different and every concussion is different.
"As well as rugby players like Trent, we need basketball players and swimmers to join the study during Term 1 2023. The volunteers in these sports are important because they will help validate the results that we see in the rugby players and also highlight any effects that non-contact sports, like swimming, have on the brain.
Valerie said she heard about the study through the school and encouraged other parents to get involved to ensure the future of rugby.
"I think it's a good thing, but it is up to the individual to decide how they feel about the study and whether they'd like to volunteer," Valerie said.
"I hope other parents get behind the study – I know the team needs many more participants to make it meaningful.
"I'm confident others will be keen to participate for the love of rugby, the love of their kids and for future generations," Valerie said.
Associate Professor Nasrallah's study is open to Grades 9 to 12 students playing rugby, basketball or swimming at the nine GPS schools in Southeast Queensland.