Long-term synaptic plasticity
Long-term synaptic plasticity was first reported in 1973. Studying a pathway in the rabbit hippocampus, researchers discovered that rapidly and repeatedly activating the synapses made them stronger; the volume control was turned up and stayed that way. They called this long-lasting increase in synaptic strength long-term potentiation, or LTP. The reverse phenomenon, in which synapses become weaker for extended periods, also exists, and is called long-term depression, or LTD.
The strength of synapses can be increased or decreased, and whether or not and in which direction they change depends on their activity patterns. Very active synapses are likely to become stronger (LTP), and those that are less active, or less effective at causing an action potential, tend to become weaker (LTD). Long-term synaptic plasticity forms the model for memory storage.
How do synapses change their strength? 
After a neuron fires an action potential, there are three main steps to synaptic transmission:
Neurotransmitter release
Binding of neurotransmitter to postsynaptic receptors, and
Opening of ion channels in the postsynaptic neuron, which allows electrical currents to flow in or out of the cell.
As seen in the diagram below, synaptic plasticity can change either the amount of neurotransmitter released (1) or the number of postsynaptic receptors available (2). Both have the effect of altering how much electrical current flows through the ion channels (3); in other words, these processes change synaptic strength.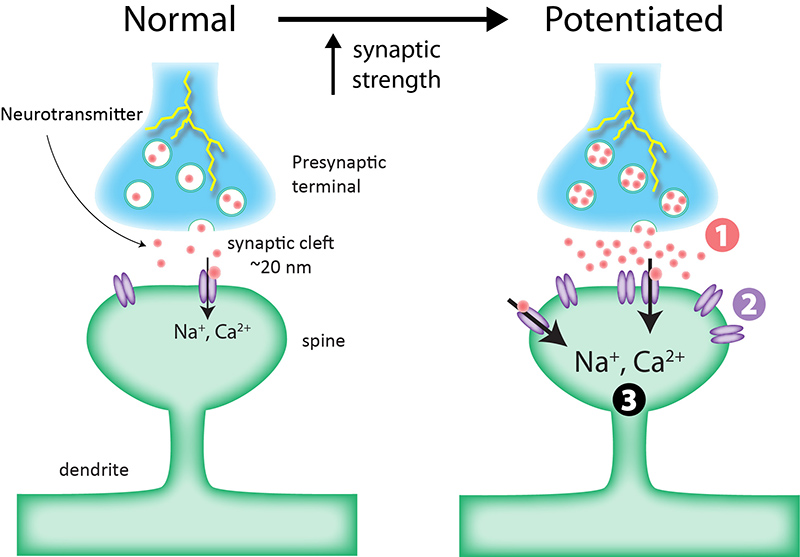 VIDEO: Synaptic plasticity explained