Australian Brain Bee Challenge Queensland Finals winner Caitlin Wadley and runner-up Marcus Paice have enjoyed a taste of the researcher's life.
The year 10 students swapped a week of their school holidays for internships at QBI, doing all things neuroscience and finding out that our scientists are friendly and welcoming, all sharing a passion for their research.
Caitlin, a student from St Stephen's Catholic College in Mareeba, chose to spend her internship in Associate Professor Ethan Scott's lab, working with zebrafish and looking at how sensory stimuli are perceived and processed in the brain.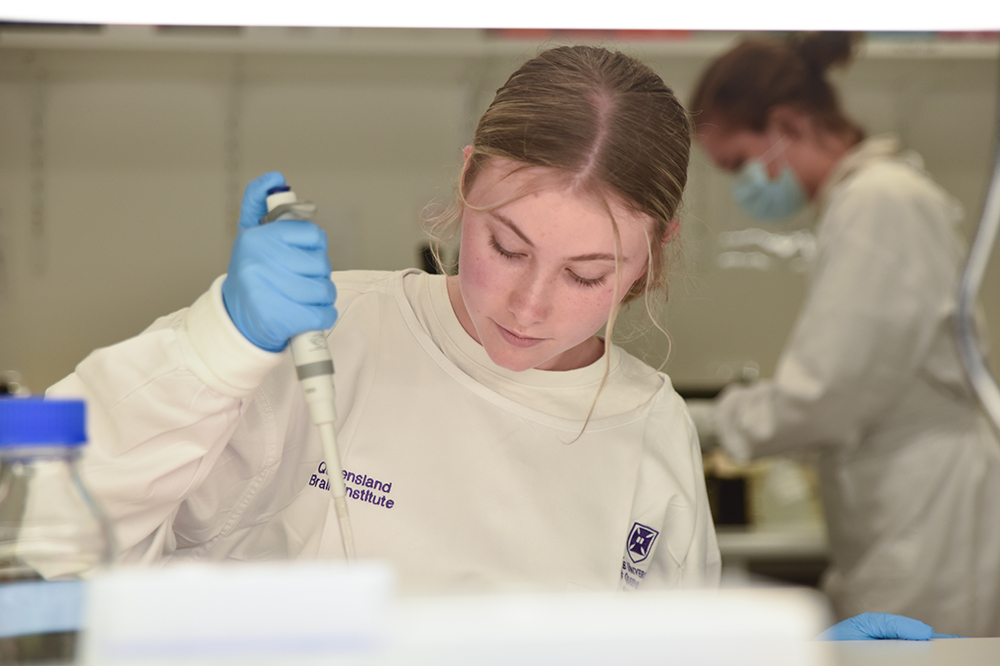 Hands-on neuroscience in the lab
"We've been exposing the zebrafish to auditory stimuli – loud noises – and we can see what areas of the brain light up, using imaging," Caitlin said.
"I've learnt so much this week – it's been much more hands-on in the lab than I expected and I've been able to experience so many things – collecting eggs in the aquarium, lab work, microscopy and I've been surprised how much maths and coding is involved."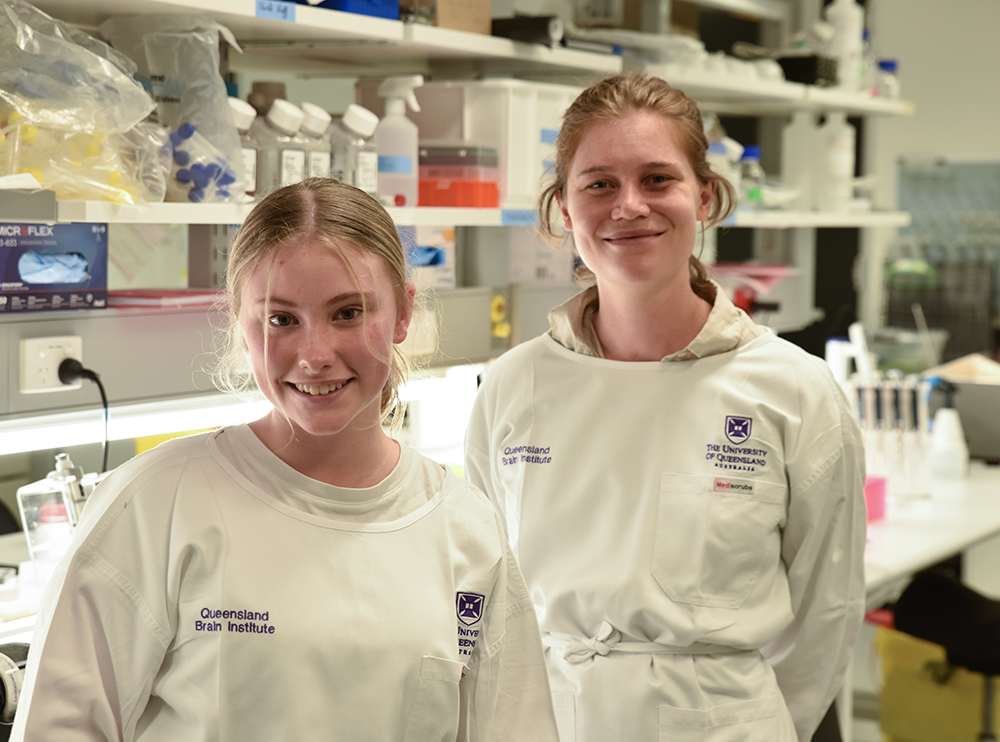 Maya Wilde, studying her PhD in the Scott Lab has been showing Caitlin the ropes.
"It's been a hectic week, but we wanted to show Caitlin as much as possible about life at QBI, including a celebration when we had our research accepted into a publication," Ms. Wilde said.
"Caitlin has picked up on everything really fast, and I've enjoyed showing her around."
QBI researchers are so welcoming
Caitlin said the experience has definitely made her more excited to work in a lab after she finishes school.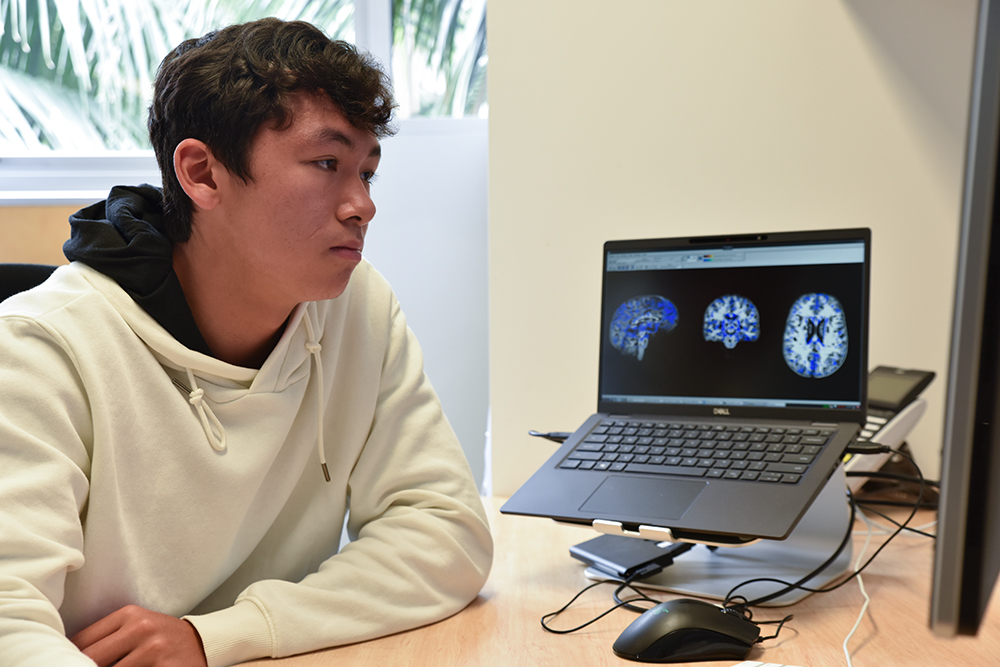 "The QBI researchers have been so welcoming and open to sharing their research, it's great to see scientists asking the big questions and planning experiments, unlike in school where we learn about research that is already complete," she said.
"Every night when I see my Mum, I have so much to tell her, she has to tell me to slow down!"
Caitlin is preparing for the National Finals of the Brain Bee competition, and her experience at QBI has cemented her desire to use her maths and science skills in her future career.
"There's far more to research than I expected"
Marcus from St. John's Anglican College, Forest Lake, has plans to be a neurosurgeon and opted for a week working with Dr Xuan Vinh To in Dr Fatima Nasrallah's group studying neuroimaging and traumatic brain injury.
The internship at QBI has shown the 16-year-old that there's far more to research than you learn at school or see in the movies, which has encouraged him even more.
"I've liked learning about all the coding and digitisation behind the brain scans, it's almost like science fiction what you can do on the computers—I still want to have a career in medicine but this has given me a great insight into the research," Marcus said.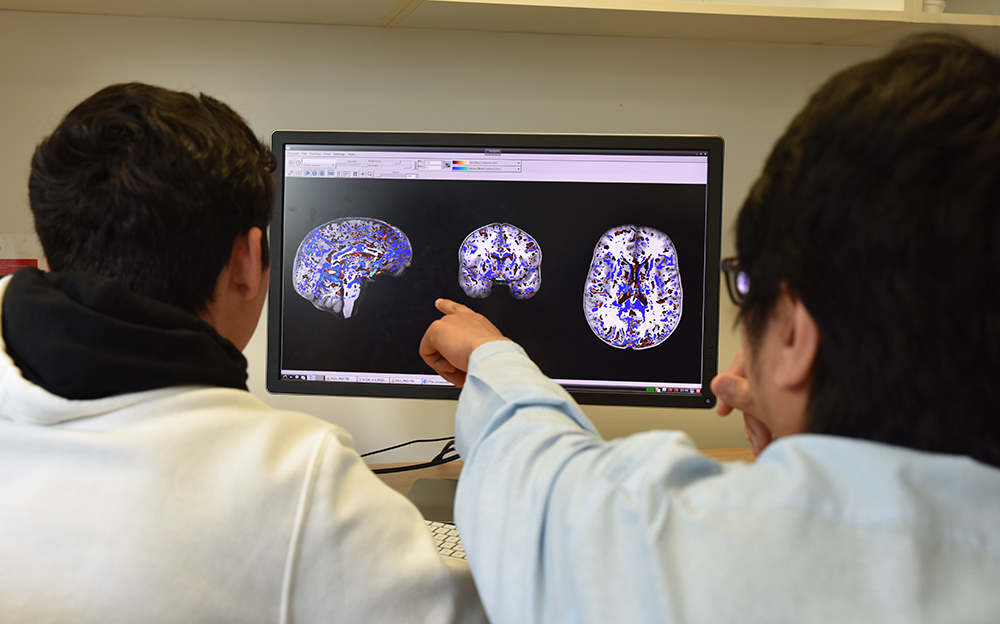 Dr Nasrallah said it was very rewarding to guide the next generation of students interested in research and neuroimaging and help them understand what medical machines can do for them in the future.
"It really makes a difference if medical practitioners engage with research and are equipped with the right information to improve outcomes for patients."
Brain Bee a gateway to neuroscience
The Australian Brain Bee Challenge is an international competition for students to learn about the brain and its functions, learn about neuroscience research, find out about careers in neuroscience and to dispel misconceptions about neurological and mental illnesses.