Atherton teenager Caitlin Wadley has set her sights on a career in neuroscience or astrophysics – and she is well on her way with a win in the Queensland finals of the Australian Brain Bee Challenge.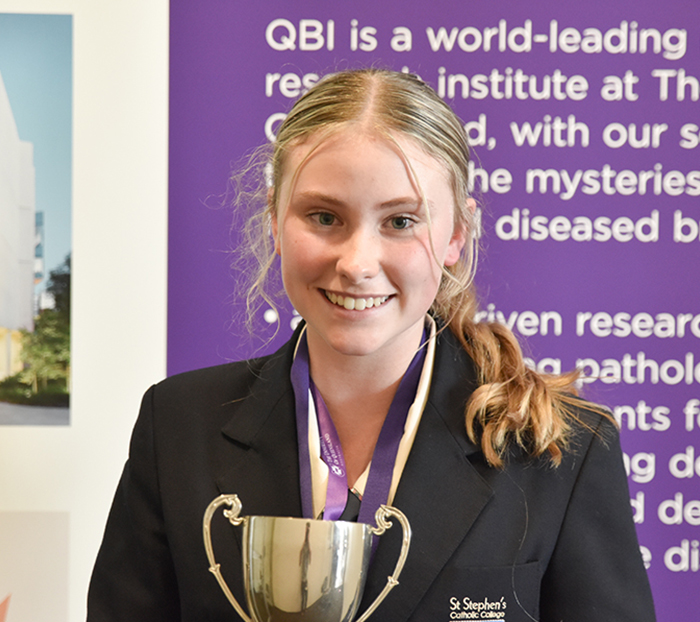 The Year 10 student from St Stephen's Catholic College at Mareeba won the state title – ahead of more than 700 participants in the first round and 33 invited to UQ's Queensland Brain Institute (QBI) for the second round.
Caitlin correctly answered questions about brain biology, mechanisms and diseases to book a spot on the national stage in the Australian Brain Bee Challenge in December.
She will also be invited to spend a week in a laboratory of her choice at QBI in September to gain an insight into life as a researcher.
"I spent a lot of time preparing for the Brain Bee because it is a field I am very interested in," Caitlin said.
"It also opens up more exciting opportunities for the future."
Brain Bee more than a brain quiz
Caitlin said she was interested in the brain because there was still so much that neuroscientists had to uncover.
"With neuroscience being a relatively new field, it offers so much room for curiosity and discovery," she said.
"Maths and science are tied for the favourite school subjects – science lets me constantly ask questions and there is no limit to information available."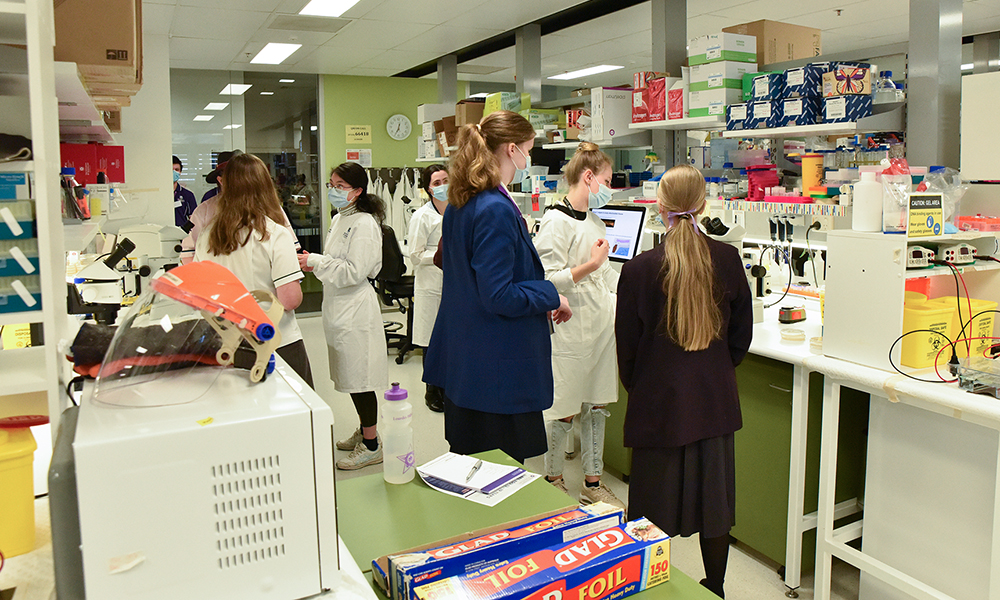 As part of the event, Caitlin and her fellow participants were shown around the QBI laboratories and spoke to researchers, confirming her passion for science.
"The facilities were incredible and the few research projects we heard about seemed really intriguing.
"We had a chance to look in the labs and I knew that's somewhere I want to be sometime in the future.
"I just can't wait to get among those people and learn from them."
Caitlin said she saw science as an outlet for her curiosity, allowing her to question, experiment and innovate.
"In the future, I hope we turn this curiosity towards the planet and its biocapacity, so we are using our resources in the most sustainable way to preserve it for future generations – or maybe just going to live on Mars."
Brain Bee a gateway to neuroscience
The Australian Brain Bee Challenge is for students to learn about the brain and its functions, learn about neuroscience research, find out about careers in neuroscience and to dispel misconceptions about neurological and mental illnesses. 
Challenge organiser and QBI neuroscientist Professor Bruno van Swinderen said it was started to motivate young people to be interested in science – and neuroscience in particular. 
Students are tested on intelligence, memory, emotions, sensations, movement, stress, ageing, sleep, Alzheimer's disease and stroke.
Media: QBI Communications communications@qbi.uq.edu.au