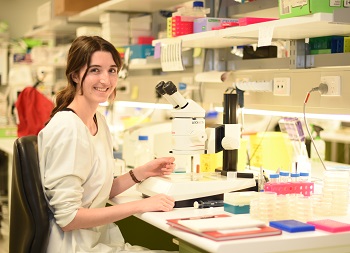 Potential future neuroscientists will be tested on their knowledge of Alzheimer's disease, stroke, emotions, sleep and memory at the Queensland Australian Brain Bee Challenge (ABBC) final at the Queensland Brain Institute next week.

The 140 students from 47 Queensland schools will battle it out in the high school neuroscience competition on Tuesday 21 July.

Queensland Brain Bee Challenge 2008 winner and UQ PhD student Casey Linton, who is researching nerve regeneration at QBI, said the competition gave students an insight into research and science and piqued their interest at a time when they were deciding on their career paths.

"I didn't have any exposure to neuroscience before doing the Brain Bee," Ms Linton said.

"I think high school kids only have very vague notions about neuroscience or what it is to have a career in research," she said.

"It's a perfect time to expose them to research and get them interested in science.

"Medicine was always something I wanted to do, but medical research became more of an interest for me having done the Brain Bee.

"After the national final I was fortunate enough to go to the international finals in 2009, in Canada, and now I'm studying at QBI, so the competition has provided me with some great opportunities."

Brain Bee Queensland co-ordinator Associate Professor Bruno van Swinderen said finalists had an opportunity to tour QBI's research facilities and be exposed to research being done by students at QBI.

"The state final brings together some of the brightest young minds we have in Queensland, who are exactly the ones we'll be relying on to become the next generation of scientists," Associate Professor van Swinderen said.

"Some of these students are travelling from incredibly far away, and they have the chance to see things happening in our laboratories that they've never seen before," he said.

The winner of the state final will have the opportunity to go to the national final at Sydney in December.

Media: QBI Communications, communications@qbi.uq.edu.au; Associate Professor Bruno van Swinderen, +61 7 3346 6332, +61 420 365 450 or b.vanswinderen@uq.edu.au.