Does your brain ever feel like a Salvador Dali painting? Bending and sliding as your thoughts and memories swirl inside your head?
Queensland Brain Institute (QBI) researcher Thomas Hedl may know just how you feel.
The PhD student scooped first prize with his Dali-inspired entry – Perfusion of Memory – in the 2021 QBI Art In Neuroscience Image Competition.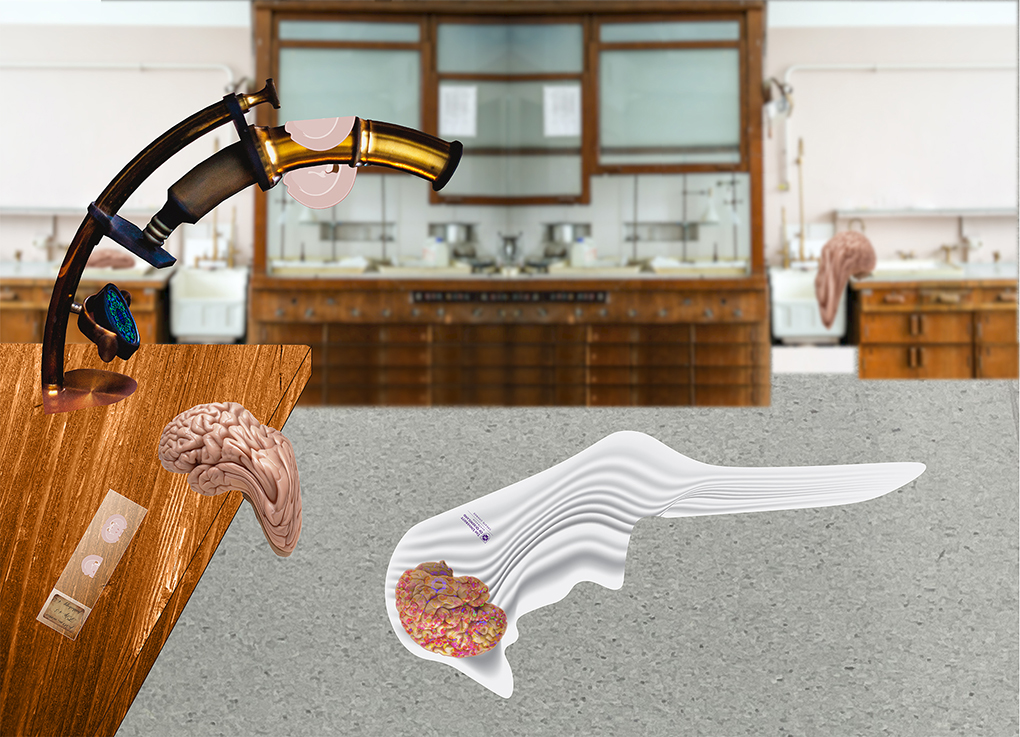 The image shows a lab space discombobulating "under the pressure of time" as a research-like figure studies the pathology of TDP-43 – a protein which plays a role in Motor Neurone Disease (MND) and frontotemporal dementia (FTD).
However, a single slide, a beacon of knowledge, remains impervious to the forces ravaging the lab.
"The QBI Art in Neuroscience Image Competition provides a creative outlet to channel my passion for science," Thomas said.
"The competition has been beneficial in more than one way, as I picked up few nifty techniques that I could apply to my work in the future."
2021 QBI Art In Neuroscience Image Competition Gallery
Judges Lachlan Henderson (Philip Bacon Galleries) and Jan Murphy (Jan Murphy Gallery) said the winning piece was visually "provoking in the context of the study of neuroscience and the QBI".
PhD student Sean Keating was awarded second place with his image "If you truly love nature neuroscience, you will find beauty everywhere", a neuron and astrocyte infused recreation of Vincent van Gogh's 'The Starry Night'.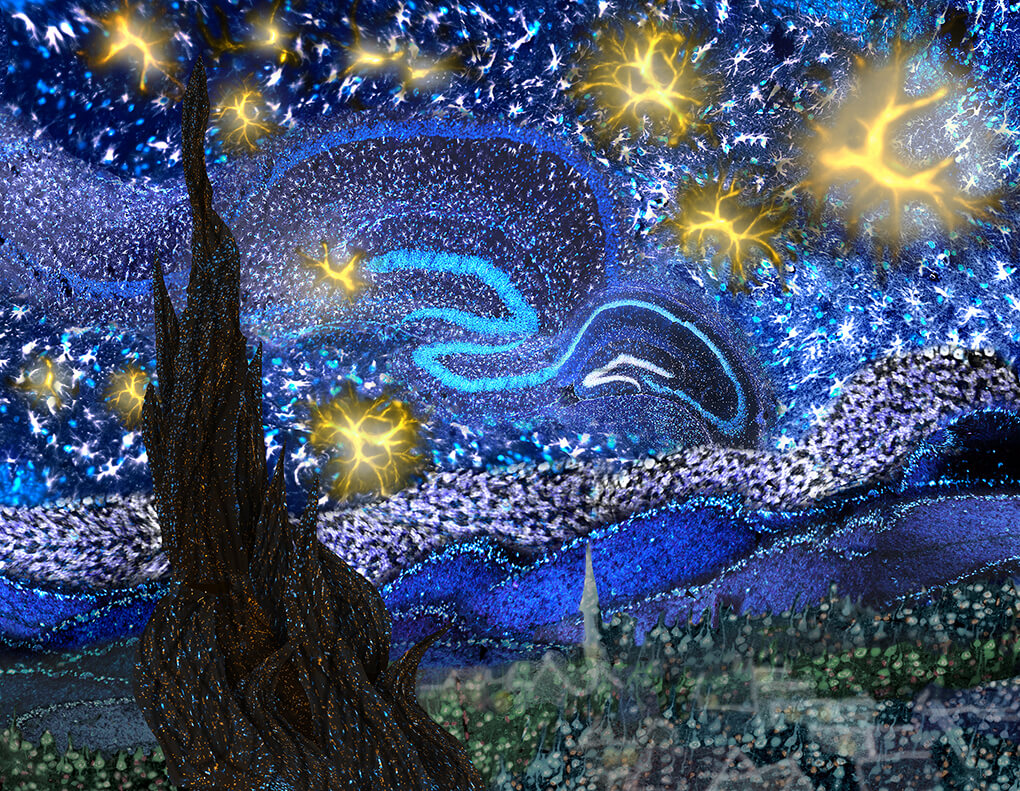 The image helped Sean claim a hat-trick of People's Choice prizes adding to his popular entries from 2019 and 2020.
"I enjoy this competition because it gives an artistic license to showcase some of the most informative parts of our research, like this high-resolution imaging, in a way that visually highlights the inherent beauty of how different cells inside the brain are organised and connected in order to carry out such important biological functions in health and disease," Sean said.
Third place was awarded to research assistant, Matisse Jacobs, for her image – Information highway – a mesmerising depiction of how neurons form networks in the brain.
"I am constantly amazed by the complexity and beauty we can discover under the microscope, and it's wonderful that QBI celebrates these spectacular images submitted from across the Institute," Matisse said.
All three artists work in the same lab and conduct their research under the watchful eye of Dr Adam Walker.