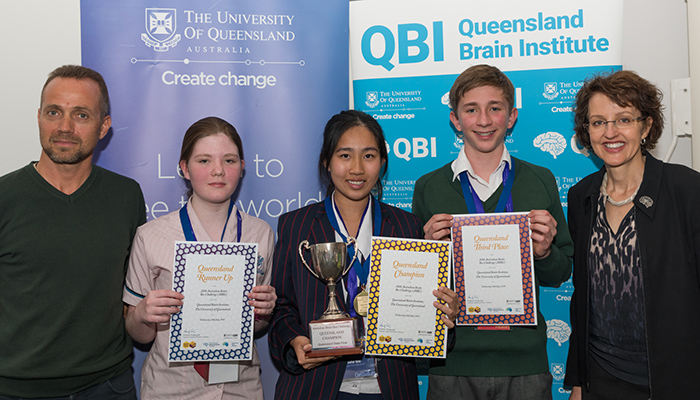 Year 10 student Jennifer Mai from Brisbane State High School has been crowned the 2018 Queensland Brain Bee Champion.
Mai, 15, outsmarted 137 other finalists from 43 schools at the Australian Brain Bee Challenge (ABBC) state finals, held at the Queensland Brain Institute, UQ, on Wednesday.
A strong field of competitors made for a tense final round.  
Following the individual competition, schools headed to the International Conference of Neuroscience at Southbank for the team challenge that afternoon.
The team challenge saw students peruse scientific experiments and discuss questions with scientists to gather information for the final challenge, with the Queensland Academy for Maths and Technology winning the Queensland Team Challenge.
Mai said she was surprised but grateful to have won the state final.  
"I can't believe I've won the state championships. I didn't even think I'd make it through to the top ten," she said.
After the ten finalists were narrowed down to three, Mai took out the prize after correctly answering the tie-breaker question on the genetics behind amyotrophic lateral sclerosis.
Mai will next compete in the Australian national final, to be held in Brisbane in December.
Queensland champions have a history of strong performance at the ABBC, where in the last several years two students have won the national title and gone on to also win the International Brain Bee.
Brain Bee Queensland Co-ordinator Associate Professor Bruno van Swinderen congratulated Mai on her outstanding performance and extensive neuroscience knowledge.
"Jennifer should be very proud of her performance today and her achievement in winning the state title," he said.
"The state final of the Australian Brain Bee Challenge brings together some of the brightest young minds we have in Queensland," Associate Professor van Swinderen said.
"Some of the students who competed today travelled from incredibly far away, and they had the chance to tour our world-class laboratories and be exposed first-hand to neuroscience research they've never seen before," he said.
"It was fantastic to see so many students with a keen interest in neuroscience, and we hope that they consider a rewarding career in research."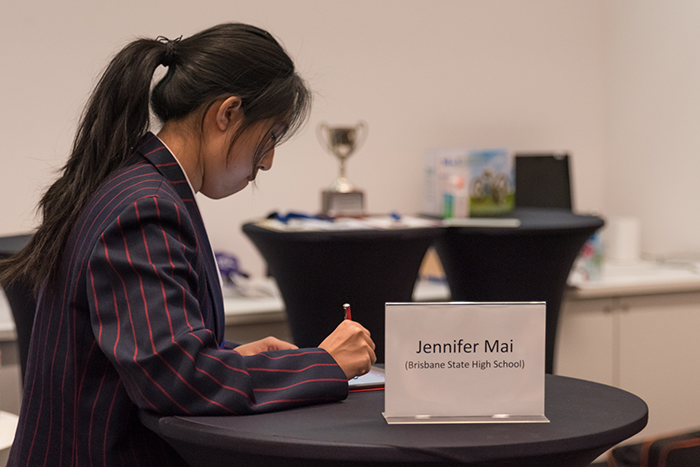 About the Australian Brain Bee Challenge
Australia's only neuroscience competition, the Australian Brain Bee Challenge is a competition for year 10 students to learn about the brain, neuroscience research, and find out about careers in neuroscience. The Australian Brain Bee Challenge is a test of knowledge about important facts concerning intelligence, memory, emotions, sensations, movement, stress, ageing, sleep, Alzheimer's disease and stroke.
Round 1 involved an online 45-minute multiple choice quiz administered by Education Perfect, taken by students at their school during Brain Awareness Week (12–18 March). 
The challenge was founded in 2006 by QBI's Deputy Director (Research), Professor Linda Richards.