Year 10 student Jade Upton from Brisbane State High School has been crowned the 2017 Queensland Brain Bee Champion.
Upton, 15, outsmarted 124 other finalists from 39 schools at the Australian Brain Bee Challenge (ABBC) state finals, held at the Queensland Brain Institute, UQ, on Tuesday.
A strong field of competitors made for a nail-biting tie-breaker finish.  
Upton said she was happy and surprised to have won the state final.  
"I never expected this to happen – I didn't even expect to make the finals," she said.
Upton, who is passionate about science, kept the audience laughing with her creative and correct answers.
Brain Bee fosters STEM learning
In studying for the ABBC, Jade said she was surprised to learn how much more neuroscience discoveries are yet to be made.
"We still don't know very much about the brain," Jade said.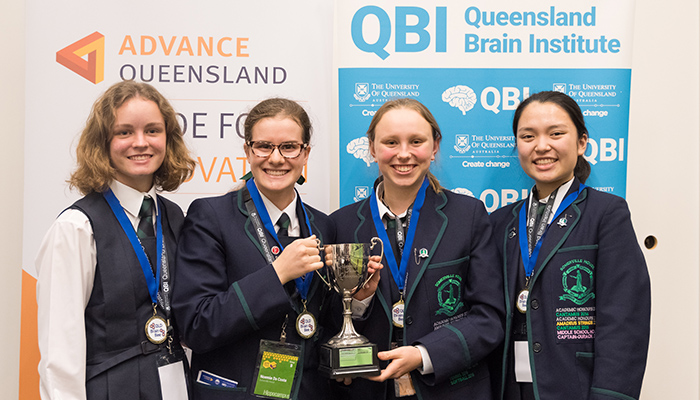 After a tense group final, Somerville House took out the Queensland Team Challenge title later in the day.
Upton will now go into the Australian national final, which will be held in Sydney in December.
Queensland champions have a history of strong performance at the ABBC, where in the last several years two students have won the national title and gone on to also win the International Brain Bee.
Brain Bee Queensland Co-ordinator Associate Professor Bruno van Swinderen congratulated Upton on her outstanding neuroscience knowledge.
"Jade should be very proud of her performance today and her achievement in winning the state title," he said. "She joins the long line of remarkable state champions Queensland has produced."
Finalists had an opportunity to tour QBI's state-of-the-art facilities and be exposed first-hand to neuroscience and science of learning research.
"The Brain Bee Challenge brings together some of Australia's brightest young minds," A/Prof van Swinderen said. "Some of these students travelled for hours to be here at the Queensland final today.
"It was fantastic to see so many students with a keen interest in neuroscience, and we hope that they consider a rewarding career in research."
Government support enables student travel for state final
The Queensland state final of the Australian Brain Bee Challenge was supported by an Advance Queensland Engaging Science Grant provided by the Queensland Government.
Part of the Engaging Science Grant funded travel to Brisbane for students from several high schools around the state:  
Woree State High School
Good Counsel College
Innisfail State College
St. Monica's College, Cairns
Kirwan State High School
UQ Office of Prospective Students assisted with travel.
About the Australian Brain Bee Challenge
The ABBC is a competition for year 10 school students to learn about the brain and its functions.
The challenge was founded in 2006 by QBI's Deputy Director (Research), Professor Linda Richards.
In 2017 the Queensland Government supported the Australian Brain Bee Challenge through the Advance Queensland Engaging Science Grant program.