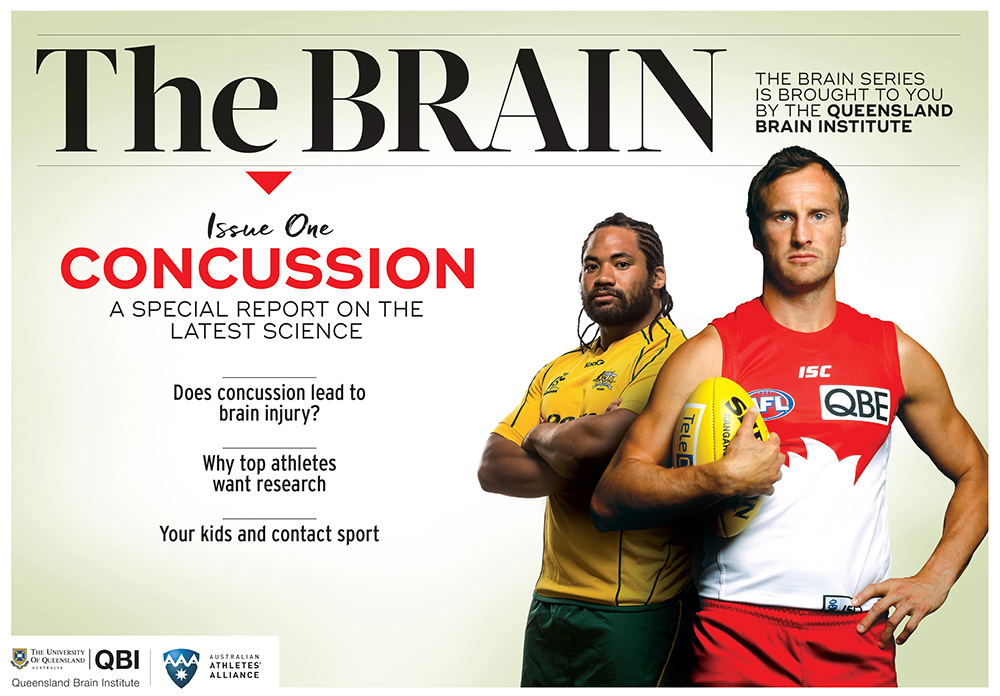 Scientists at The University of Queensland have teamed up with the peak body for Australian athletes, the Australian Athletes' Alliance, to tackle concussion and its long-term effects.
The Queensland Brain Institute's #nobrainnogame campaign will raise awareness of the dangers of concussion and fund ground-breaking research, with the backing sporting codes across the country.
QBI will recruit healthy elite athletes for brain scans, to follow up at regular intervals if they experience concussion.
Australian Athletes' Alliance (AAA) General Secretary Jacob Holmes said his organisation, which represents more than 3500 athletes across eight sporting codes, was proud to be involved in #nobrainnogame.
"This is a huge initiative from QBI, and AAA is right behind them. It's a no-brainer," Mr Holmes said.
"The players' interests are at the heart of what we do – in the short term and the long term.
"The safety of our members and all athletes is paramount, and ongoing research into concussion and how we can better protect athletes from sustaining long-term injury is a priority.
"But this campaign is not just about professional athletes; it's all the way down the line to the kids playing in grassroots competition.
"We want to make sure we're educating the public around the issue and giving them the best information possible, so that mums and dads can know they support our codes because they're safe, and they understand what to do if a player is concussed," he said.
The #nobrainnogame campaign has the backing of sport ambassadors including:
QBI Director Professor Pankaj Sah welcomed the involvement of elite athletes in #nobrainnogame.
"We aren't trying to change sport. We're trying to change outcomes," Professor Sah said.
"QBI has the depth of expertise to research not just better diagnostics and treatments for concussion, but to investigate the long-term effects of repeated concussion, including dementia.
Concussion is a traumatic brain injury that can be caused by falls, assaults and car accidents but is most commonly experienced in certain sports, at all levels, where players are at higher risk of being concussed than the general population.
QBI research includes taking saliva tests and baseline brain images of healthy elite athletes. 
If they go on to experience concussion, they are repeatedly scanned in the days and weeks following the injury,  to closely observe changes in the brain.
The ultimate aim of the research is to develop early diagnostic markers for brain injury.
QBI is fundraising to establish a dedicated concussion research centre.
The first edition of QBI's Brain Series magazine, "Concussion", is being distributed across Australia this week. It is available on the QBI website: concussion.qbi.uq.edu.au
"Understanding more about concussion and recognising the appropriate timeframe to be excluded from sport to prevent further injury to the brain will help keep the community involved in sport and protect player well-being," Professor Sah said.
"In the meantime, get on board with #nobrainnogame on social media, make sure you know the signs of concussion and the importance of rest, and educate yourself and your family about the dangers," Professor Sah said.
To donate to concussion research, text BRAIN to 0437 371 371.
Media: QBI Communications, communications@qbi.uq.edu.au.