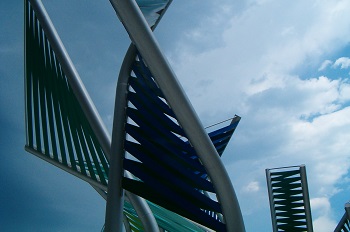 Research at The University of Queensland has found that using a vastly cheaper strategy of genetic analysis can be almost as efficient as a more expensive method.
Findings published in Nature Genetics show that the use of cheaper single nucleotide polymorphism (SNP) arrays followed by a statistical trick called imputation can perform almost as efficiently as whole genome sequencing in identifying genes associated with human complex traits or diseases.
Study lead author Associate Professor Jian Yang from UQ's Queensland Brain Institute said by using the cheaper method studies may then be able to analyse more samples, which increases the statistical power of the findings.
Associate Professor Yang said genomics research relies on gathering as many samples as possible to discover genes associated with illnesses, which results in possible targets for therapeutics.
"When we study the genome for genes that are linked to a disease we need to test tens or even hundreds of thousands of samples, because even for most common diseases such as schizophrenia and obesity the effect of a single gene on the risk to a disease is tiny," Associate Professor Yang said.
 "Like a political opinion poll, a greater sample size increases the statistical power of the result, and the more likely you are to have an accurate representation," he said.
"Some data sets currently have half a million people, so there is an astronomical cost to studying samples using whole genome sequencing.
"Statistical imputation works like magic by accurately guessing that DNA variants that we haven't directly measured are present, by pulling this information from libraries of data that have already been collected.
 "SNP arrays only study a fraction of the genome, but the DNA variation of the rest genome can be imputed with very high accuracy using the imputation analysis technique."
Project leader Professor Peter Visscher said because the cost of a single whole genome sequence is approximately $1000 per sample, the case for genotyping using SNP arrays is made compelling with current prices of around $50 per sample.
"When you can study up to 20 times as many samples for the same cost, there is a clear cost-benefit at today's prices," Professor Visscher said.
"For the 45,000 samples we used in the study; the difference between whole genome sequencing and SNP arrays is approximately a saving of $45 million at today's prices."
Professor Visscher said that prices are continuing to fall, and in due course the economic balance could shift back to using whole genome sequencing.
"We are by no means saying that whole genome sequencing should not be used, because they provide a complete picture that SNP arrays do not," he said.
"But when cost is a factor in genetic studies, then the SNP arrays followed by an imputation strategy provides the best value-for-money for common diseases.
 "Famously, the Human Genome Project cost $3 billion dollars to obtain the first map of the human genome, so for us to do it now only 10 years later for $1000 is quite remarkable.
"So we fully expect prices to continue falling, but it could be a number of years until there is an economic case for whole genome sequencing."
The study was performed in collaboration with the UQ Diamantina Institute.
Media: QBI Communications, communications@qbi.uq.edu.au; Dr Jian Yang, +61 7 3346 6393, jian.yang@uq.edu.au.