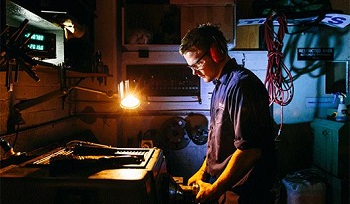 Maintaining world-class research equipment at the Queensland Brain Institute is all part of a day's work for fitter and turner Ethan Park, who has been named MIGAS Queensland Apprentice of the Year.
The 21-year-old, who completed a Certificate III in Engineering at The University of Queensland's QBI following his apprenticeship, is the third UQ apprentice to win the award.
Mr Park said the variety of work at UQ had given him a step-up in his career.
"Working at QBI has given me exposure to so many more experiences than practically any other apprentice would have," Mr Park said.
"It's a unique place to work – every day is different and we work with so many different materials, and the applications are so vast, creating everything from medical devices to lab benches."
Mr Park is now employed full time as a Technical Officer at QBI's workshop, and is looking forward to continuing his professional development.
"I'm currently half way through my restricted electrical ticket, which will allow me to disassemble machinery and motors, and that will open up whole new avenues for what I can do," he said.
UQ home to some of Queensland's best apprentices from The University of Queensland on Vimeo.
Mr Park trained under the expert guidance of John Steptoe, a 17-year UQ veteran who was Queensland Apprentice of the Year in 2000, at what was then the UQ Department of Physiology and Pharmacology.
"I was really proud to nominate Ethan because he's shown such great aptitude and work ethic, and the grounding he's had from working here has given him a great base for the future," Mr Steptoe said.
"The researchers come to us with requests, and very often we not only have to make what they want, but we actually have to design it as well.
"We get so much job satisfaction because we get to take something from the initial idea, work on the design, and then carry it through to finished product, all in-house.
"Winning the award three times is a great reflection of the University's training systems.
"We're working in such a high precision environment and we're always striving to make the equipment better – more precise, better finishes and finer detail – to help advance the research that goes on here.
"Ethan has shown he has such a high level of commitment. He fits into the team really well, and when we found out that he'd won we were all just over the moon."
Media: QBI Communications, communications@qbi.uq.edu.au.