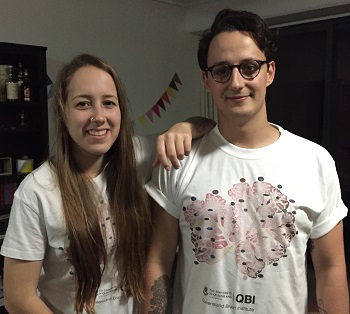 Brother and sister duo, Michael and Deanna Iannantuono, are taking up the challenge to raise funds for QBI by running in this year's Sunday Mail Suncorp Bank Bridge to Brisbane.
Both Deanna and Michael have been touched by diseases which affect the brain as their sister has epilepsy, cousin has a brain tumour and aunty sadly passed away in 2010 with a brain aneurysm.
"When Michael and I decided to take part we wanted to support a charity which had links to brain related research. I play soccer for the University of Queensland so when we came across QBI the choice seemed obvious," Deanna said.
Both wanted to support QBI as they are very inspired by the work the institute does and know the research is crucial to finding ways to treat illnesses like the their relatives have experienced.
"Michael has invested in a Go Pro so hopefully we'll have some footage of us having the time of our lives while running for a good reason."
Michael and Deanna hope to exceed their fundraising target of $700 by the day of the run.
"The support of people such as Michael and Deanna is crucial in spreading the message about QBI's work and also raising important funds to help continue world standard neuroscience research," said QBI Director, Professor Pankaj Sah.
To support Michael and Deanna or join Team QBI in either the 5km and 10km courses visit www.qbi.uq.edu.au/b2b.
Media: QBI Communications, communications@qbi.uq.edu.au.