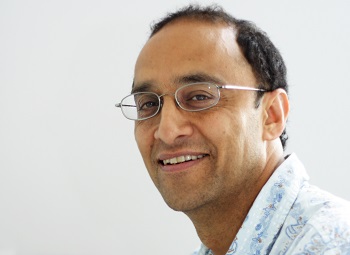 Professor Pankaj Sah has been appointed to the role of Director of the Queensland Brain Institute (QBI), commencing 1 July 2015, following a highly competitive international search.
After 12 years, QBI's Founding Director, Professor Perry Bartlett FAA, is stepping down from his role as Director.
Having served eight years as QBI's Deputy Director (Research), Professor Sah's vision and passion for the continued success of QBI made him an outstanding candidate for the Director role.
Professor Sah's extensive knowledge of the Institute's operations, strategic direction and scientific endeavours will enable him to make an immediate impact in the role.
He is currently also serving as Director of the Science of Learning Research Centre – an ARC Special Research Initiative.
Professor Sah's research stems from gaining an understanding of neural circuits in the amygdala, an area of the brain involved in emotional processing.
He is a current recipient of a NHMRC Principal Research Fellowship, previously held a UQ Vice-Chancellor's Senior Research Fellowship, sits on the editorial board of six journals, as well as holding the position of Editor in Chief of the new Nature Partner Journal npj Science of Learning.
Having authored more than 110 refereed publications, and bringing in more than $40.3 million in competitive grant funding in the last 11 years, his academic and administrative credentials are impressive.
Professor Sah was one of the inaugural group leaders at the burgeoning Institute, which has played a strong part in elevating UQ's global ranking in recent years.
QBI's growth and scientific accomplishments are evidenced by the extraordinary success in attracting funding: over $135 million in competitive grant funding to date, largely through the National Health and Medical Research Council and Australia Research Council, with a success rate far above the national average; State and Federal government funding of $63 million; and approximately $50 million raised in philanthropic funding.  
Professor Sah is well placed to continue this growth and steer the Institute to new discoveries – his enthusiasm and track-record provide the groundwork for a strong future for UQ-QBI.
He has outlined a vision with neural engineering and the science of learning as critical focus areas.
QBI also takes this opportunity to again thank Professor Bartlett for his outstanding leadership and continuing invaluable contributions to QBI and UQ.
Media: QBI Communications, communications@qbi.uq.edu.au.