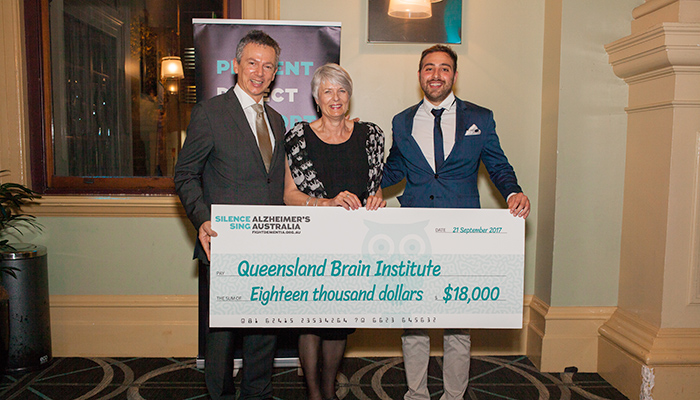 Three Capes Challenge Team - show your support
On Saturday 11 August, for a small gold coin donation, you can join the Three Capes Challenge Team and supporters unable to undertake the challenge on a 15km bush walk led by expert bush walker Neill Butler along the Noosa Headland Track. For more information and to register, contact: k.cutting@uq.edu.au.
About the Three Capes Walk
Janice Rushworth, who lost her husband Alastair to early-onset Alzheimer's in 2016, is embarking on a mission to lift the profile and funding of research into Alzheimer's. Last year, thanks to donations from friends, family and the community, she raised $18,000, which is currently supporting Joseph Benetatos, a young researcher at UQ's Queensland Brain Institute (QBI), who is the inaugural Alastair Rushworth PhD Scholarship recipient. 
In October 2018, Janice and a group of inspired intrepid trekkers will step outside their comfort zone and take on the Three Capes Track in Tasmania to raise $26,000 – the amount of an annual PhD scholarship.
Janice has drawn comfort from sharing her and Alastair's story: as a practical, outward-looking person, she feels compelled to support Alzheimer's research, recalling the point of Alastair's diagnosis, when both she and medical staff were unable to do anything to help him.
Janice will be joined on the trek by John Quinn, a person living with younger-onset Alzheimer's disease, and his wife Glenys. John is a strong dementia advocate, a person endeavouring to live well with dementia, and recently shared his story for The University of Queensland's Not if, when philanthropic campaign. John's adventures reveal the possibilities for a meaningful, engaging and productive life beyond the diagnosis of dementia. His participation in the Three Capes Trek, led by Aurora Adventures, is testament to this positive outlook. 
There is currently no treatment or cure for dementia, which is the second leading cause of death in Australia, the leading cause of death for Australian women, and a disease that affects almost one in 10 people over the age of 65. A breakthrough potential treatment at QBI is offering hope to millions around the world.
QBI's Clem Jones Centre for Ageing Dementia Research (CJCADR) is Australia's first and largest research centre dedicated to the prevention and treatment of dementia. Professor Jürgen Götz, a world leader in conducting cutting-edge research in Alzheimer's disease, is the inaugural Director of the Centre. CJCADR is driven by the insight that fundamental, basic research is required to provide a solution to the ageing crisis as diseases including Alzheimer's pose an increasing challenge to our society. 
Support the trekkers and QBI dementia research:
For more information about participating in this unique challenge contact Aurora Adventures: infor@auroraadventures.com.au or 1300 158 468