As QBI's first philanthropic donor, Ross Maclean was a true altruist and a man with foresight.
When Ross and his family first began their journey with the Queensland Brain Institute in 2003, QBI was still in its infancy, with just Founding Director Emeritus Professor Perry Bartlett and a handful of neuroscientists in UQ's Ritchie building.
Professor Bartlett came to the Maclean family's attention after their friend had scoured the world for expertise in motor neurone disease (MND) research, and came up with Professor Bartlett's name.
"Perry was really the only person that was found locally who was doing something [in MND research], and there was no care, not anything set up in those days. It was very, very difficult," Ross' son, Jeff, said.
"Back in the early 2000s, I'd never heard of motor neurone disease, and nobody I knew had heard of motor neurone disease."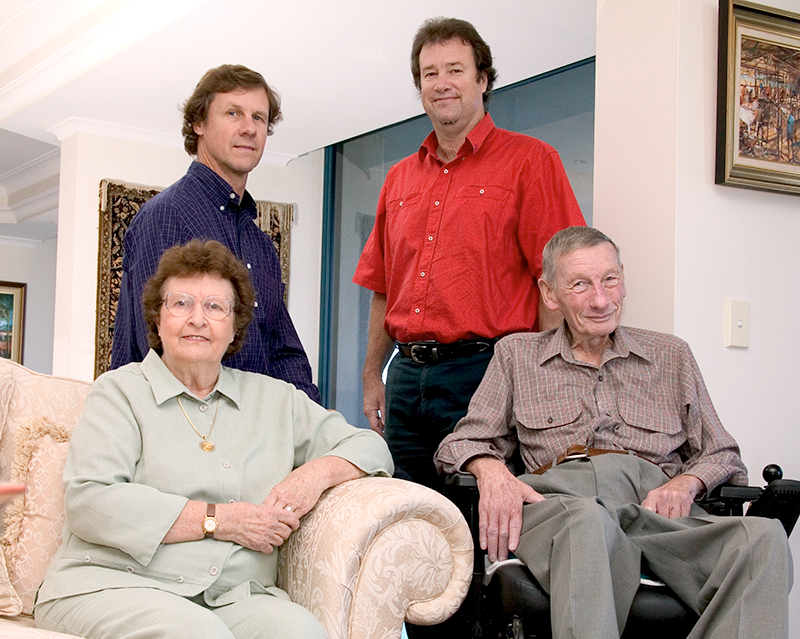 Ross was a successful Queensland businessman who had been diagnosed with MND in 2000. He met with Professor Bartlett to discuss the existing MND research at the time, of which there was little. Perry explained that he was working on EphA4, a protein involved in development of the nervous system, which could have potential impact on MND. The outcome of this research into a treatment was still many years away.
Despite knowing he would not benefit from the research within his lifetime, Ross generously offered to purchase Professor Bartlett an important piece of equipment needed to continue his work, to invest in a better future for others living with MND.
Professor Bartlett's work, even in its early stages, inspired Ross, and provided the impetus for a philanthropic project that would continue into the next generation, even after Ross' death in February 2005.
Jeff Maclean now continues his father's legacy of philanthropy. The Ross Maclean Senior Research Fellowship was established in late 2004, and continues to support MND research at QBI.
More than $1 Million for MND research
The Fellowship – through the efforts of the Maclean family, friends, and members of the community – has now raised over $1 million for MND research.
More than 15 years on, and the investment is beginning to see tangible results. In 2019, QBI will embark on a clinical trial to test a drug candidate based on the initial discovery of the EphA4 protein to treat MND and other neurodegenerative conditions, providing hope for those affected by these debilitating disorders.
While Ross is not here to witness this historic milestone, his family are incredibly proud of their role in the development of a potential treatment, and are excited to see what next year's clinical trial brings.
"Ross would love to see what's happening now, because when he and we first got involved, it was for the researchers – providing facilities for them," said his son, Jeff.
"It's wonderful to see that after 23 years of research, it's coming to fruition now with this clinical trial next year."