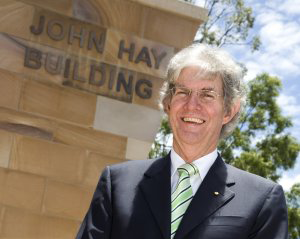 The Queensland Brain Institute pays tribute to one of the most influential leaders in its 106-year history, former Vice-Chancellor and President Emeritus Professor John Hay AC.
Emeritus Professor Hay, who died in Melbourne on November 3 surrounded by his family, led UQ through 12 transformative years from January 1996 to December 2007.
UQ Chancellor, Mr Peter Varghese AO, and Vice-Chancellor and President Professor Peter Høj, paid tribute to the man who "irreversibly transformed UQ, and indeed Queensland".
They have also conveyed the UQ community's deep condolences to Emeritus Professor Hay's wife, Barbara, children Chris, Kate, Tim and Ben, and adored grandchildren.
"John Hay was a remarkable leader, intellectual and force for change who propelled The University of Queensland into the new century in dramatic style," Mr Varghese said.
"In delivering unprecedented esteem to the institution, he enhanced the global currency of a UQ education and brought new stature to the state of Queensland.
"He will long be celebrated as an architect of the modern university."
Professor Høj said Emeritus Professor Hay created a template for a 21st Century Australian university CEO.
"John worked brilliantly with philanthropists, government and business to maximise opportunities to enhance the teaching, research and social and economic impact of UQ," Professor Høj said.
"His uncompromising commitment to excellence extended to all areas of the University, and he matched his passion for the arts and humanities with his appreciation of the power of science and engineering.
"His vision has given modern Queensland a university in the upper echelons of global university rankings and research ratings, fed by a pipeline of outstanding scholars and innovators from all over the world.
"Through these people, John's positive influence will continue for many generations."
If you would like to submit a condolence message or a tribute to Emeritus Professor Hay, please complete this form. Messages will be compiled into a book of tributes and presented to the Hay family.
John Hay's family have requested that in lieu of flowers, donation be made to QBI.
Further information
Read UQ's tribute to Emeritus Professor John Hay AC  here
A biography of Emeritus Professor John Hay AC can be found here.
Emeritus Professor John Hay reflects on his 12 years at UQ here and also in an interview with UQ colleagues at Queensland Speaks.
You can read more about the significant Achievements of the John Hay Years here.
Read Contact Magazine's farewell to 'Team Hay' here.