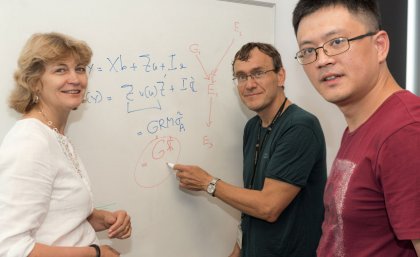 A $7 million Australian Government grant will propel Queensland Brain Institute research into the genetic causes of common diseases.
The five-year National Health and Medical Research Council Program Grant, announced today, was awarded to Professor Peter Visscher, Professor Naomi Wray and Associate Professor Jian Yang, researchers who lead QBI's Centre for Neurogenetics and Statistical Genomics. 
Professor Visscher said large genomic data sets collected from hundreds of thousands of people would be analysed using high-throughput computing power.
"Our research focusses on patients with neurological and psychiatric disorders including motor neuron disease, Parkinson's disease, dementia, autism and schizophrenia," Professor Visscher said.
"The analysis methods and tools we develop will pave the way for translating the technology to other common diseases such as obesity, diabetes and cancers."
Professor Wray said the new analytical methods and tools would be disseminated through software.
"The integration of our new methods with disease-focussed themes will promote the translation to clinically relevant applications, allowing other researchers to apply our research across the full range of common diseases," she said.
Big data driving medical revolution
UQ Vice-Chancellor and President Professor Peter Høj said the research was part of the revolution under way in medicine.
"Big data technology created social media, and has transformed weather forecasting and mineral exploration," Professor Høj said.
"Transformation of the same magnitude is now coming to health care, as we move into the era of so-called personalised and precision medicine based on an individual's genes.
"I congratulate Peter, Naomi and Jian on their exciting research and for attracting this prestigious NHMRC grant to the University."
Australia leads genomics research
QBI Director Professor Pankaj Sah said the research project places Australia at the forefront of this field.  
"Making sense of big data is a key challenge," he said.
"This project will maintain and expand Australian capacity in statistical genomics, and train and mentor a new generation of researchers.
"The research strategies are applicable to many common diseases, so this research has the potential to change many, many lives."
Work at the Centre for Neurogenetics and Statistic Genomics using large data sets of information involves national and international collaborations, including some in China.
Watch a video here on Associate Professor Jian Yang's work on big data.
Media: QBI Communications, communications@qbi.uq.edu.au.