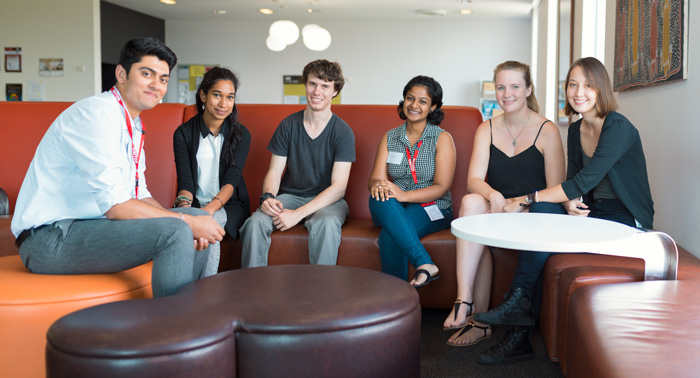 Eight students have been awarded scholarships for QBI's new Master of Philosophy in neuroscience program.
Students were officially welcomed by the program's co-ordinator Associate Professor Helen Cooper on 1 February.
Nearly 100 prospective students applied to enter QBI's inaugural MPhil in neuroscience—a figure that was whittled down to eight after a rigorous application process.
A/Professor Cooper said the students were embarking on an exciting course of study.
"This first intake is a mix of Australian and international students and their study will be supervised by our world-leading neuroscientists," she said.
"We're giving these extremely talented students another way into a neuroscience research career.
"They come from a range of biological and cognitive sciences.
"Some of them have already worked or studied at QBI but all of them are beginning their next study adventure."
QBI neuroscience research attracts international talent  
One of the eight students, Roshini Randeniya, said she was interested in the research into Alzheimer's disease that was happening at QBI.
"I had read a lot about research at QBI, especially the ground-breaking work related to the treatment of dementia with ultrasound," she said.
"Also, the MPhil program specifically highlighted techniques such as neuroimaging and electrophysiology, which I am keen to learn and develop."
Ms Randeniya, who has travelled to Brisbane from her home in Sri Lanka, already has a Bachelor of Science in biosciences and a Master of Science in applied psychology.
"I'm really looking forward to engaging in research at QBI, specifically in neurodegenerative disorders," she said.
"I'm also looking forward to learning and developing my skills so I can become a ground-breaking researcher in the field of neuroscience."
More information on the Master of Philosophy (MPhil) in neuroscience program and submissions of interest are available on the QBI website.
Details: QBI Student Administration: +61 7 3346 6401, qbistudents@uq.edu.au