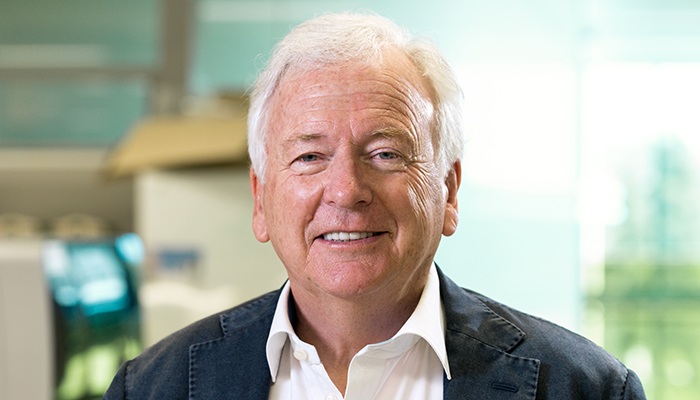 Professor Perry Bartlett, founding director of the Queensland Brain Institute, has been awarded the CSL Florey Medal for his breakthrough discoveries in neuroscience, which include finding stem cells in the adult brain, and showing that the brain is an ever-changing organ.
The CSL Florey Medal is one of Australia's most prestigious scientific awards and recognises a recipient's significant achievements in biomedical science and/or human health advancement.
Awarded every two years, the CSL Florey Medal has been presented to just nine other scientists since its inception in 1998. Past recipients include The University of Queensland's Professor Ian Frazer, and Nobel Prize winners Dr Robin Warren and Professor Barry Marshall.
Professor Bartlett said he was "extremely honoured" to receive the CSL Florey Medal. "Florey is an example to all of us – an example of what an Australian can do on the world stage," he said.
Finding stem cells in the brain
Professor Bartlett's research turned on its head conventional wisdom that the brain was hardwired.
"When I started researching the brain in the late 1970s, the general dogma was that the adult brain was fixed and unable to change," he said.
"So it was very exciting when I was able to prove that there were actually stem cells in the adult brain, which means that the adult brain has the capacity to repair itself. This has significant implications for treatments for people with brain injuries and diseases."
In 1982 Professor Bartlett predicted the presence of stem cells in the brain and in 1992 he proved the theory correct when he found them in mouse embryos, then in adults. It wasn't until 2001 that he was able to isolate the brain stem cells in adult mice. 
His research progressed to focus on stem cells in the hippocampus.
"We know that the hippocampus is vital for the formation of spatial navigation and remembering when and where activities occur," Professor Bartlett said. "Our latest work suggests that many different groups of stem cells are at work in the hippocampus regenerating new neural connections. We now understand that the brain is very plastic, changing all the time."
Exercise may reverse decline in brain function
More recently, Professor Bartlett has successfully used exercise to reverse the effects of dementia and recover memories in mice. Human exercise trials are slated to start in 2016.
"The effect of dementia on hundreds of thousands of Australians is debilitating and devastating," he said. "If we can show that exercise can actually slow down or reverse the onset of dementia, then we can potentially make a positive difference to a lot of people's lives."
"Our first thought back at the beginning was 'Wow, now we will be able to repair the brain' and, while it's still been a long road, they are now well on the way.
"What excites me is that our initial discoveries nearly 25 years ago are now leading to potential treatments for dementia, and maybe for depression too."
Brain research holds promise of curing dementia
UQ acting Vice-Chancellor and President Professor Max Lu congratulated Professor Bartlett on the award.
"The fact that Perry's excellent work is on the threshold of human trials is encouraging for people worldwide.
"It holds promise not only for individuals, families and carers living with dementia, but also for all societies confronting the challenges of ageing and the increasing impacts of brain disorders."
Professor Bartlett is the founding director of the Queensland Brain Institute, which he established in 2003, with 10 researchers. The institute now has more than 500 staff.
About the CSL Florey Medal
The medal is named in honour of Australian Nobel Prize-winning scientist, Sir Howard Florey, who developed the medical use of penicillin. The award includes a silver medallion and $50,000.
Past recipients
2013 Professor Ruth Bishop
Understanding the rotavirus and the creation of a vaccine.
2011 Professor Graeme Clark
For pioneering the bionic ear
2009 Professor John Hopwood
Diagnosis and treatment of genetically inherited leading to progressive destruction of the brain and other organs in children
2006 Professor Ian Frazer
Research towards the development of vaccines against human papillomaviruses (HPV) including cervical cancer and genital warts, affecting the lives of millions globally.
2004 Professor Peter Colman
Structural biology research, particularly for the discovery of a new class of anti-influenza drug.
2002 Professor Colin Masters
Isolating and characterising elements of the primary pathway causing Alzheimer's disease
2000 Professor Jacques Miller
Discovery of the function of the thymus, which signalled a seminal contribution to immumology.
1998 Dr Robin Warren and Professor Barry Marshall
Discovery of the bacterium Helicobacter pylori and its role in gastritis and peptic ulcer disease.
MEDIA: Bernadette Condren, b.condren@uq.edu.au, +61 7 3346 6353; Professor Perry Bartlett, +61 3365 1603.