Learning profile: Dr Chris Sarra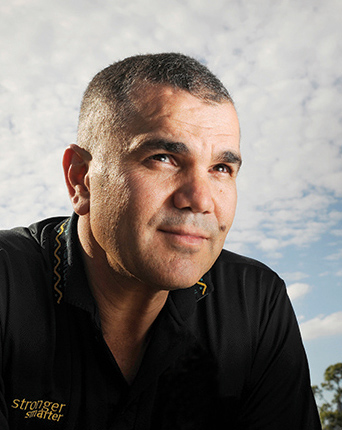 Dr Chris Sarra is an educator who has dedicated his career to shifting expectations around children in schools across Australia. His focus has been Indigenous children and he's managed to break through entrenched misunderstandings and use education to make a real difference to their lives.  
"The key has been getting educators to embrace Aboriginal kids beyond the stereotypes that dominate the landscape, while also allowing the kids themselves to see outside these labels," says Chris, Founding Chairman and CEO of the Stronger Smarter Institute, which has been operating for a decade now to improve educational outcomes for Indigenous Australian schoolchildren.
Chris believes that constant criticism and negativity may have a fundamental impact on the way children learn. "From a neuroscience perspective, I am particularly interested in the impact on the wiring of the brain when it is constantly bombarded with negative messages," he explains.  "The essence of being stronger and smarter is to have a positive impact on a child's psyche and provide an authentic reason to be more optimistic. 
"Advances in research relating to the neuroplasticity of the brain take this thinking from a 'romantic' notion to a clinical level, which is a great advancement."
Growing up in Bundaberg in the 1970s as the youngest of 10, Chris had first-hand experience of the many negative issues faced by Indigenous students during schooling, including racism and low expectations. "Sometimes I would sell myself short," he admits. "But I grew up with a very strong and proud mum, who, in many ways, created a force-field around our family, always giving us a strong and positive sense of what it meant to be Aboriginal. Her constant message was never become a victim of racism." 
This drove Chris to teachers' college and the first steps in the career in education that is now his passion. "My college lecturer, Dr Gary MacLennan, mentored me and at one point grabbed me by the 'intellectual scruff of my neck', calling upon my sense of outrage and determination to not defer to what people expected of me," he says, recalling that this gave him the self-confidence to believe he could succeed. 
After qualifying as a teacher, in 1998 Chris became the first Aboriginal principal at Cherbourg State School in South East Queensland. There he developed the 'Stronger Smarter' philosophy, which encouraged Indigenous students to be both strong in their cultural identity and smart about making the most of educational opportunities.
"Throughout my education, I developed a sense of understanding that if I changed my expectation of who I am, I could transcend the stifled beliefs of where I could go," Chris says. "We achieved success at Cherbourg through flushing out the negative stereotypes and replacing them with a positive cultural identity while also challenging the whole school community to have high expectations of Indigenous students."
More at strongersmarter.com.au. Chris's book, Good Morning, Mr Sarra, is available at uqp.com.au or at all good bookshops.