While most students were kicking back these holidays, a selection were hitting the books in preparation for the Queensland and Northern Territory finals of the Australian Brain Bee Challenge.
More than 100 young competitors from across Queensland and the Northern Territory competed in a battle of neuroscience knowledge at the Queensland Brain Institute, UQ on July 17.
While most adults would struggle to define terms like dopamine or basal ganglia, Brain Bee contestants are well versed in a range of topics related to intelligence, memory, emotions, stress, ageing, sleep and Alzheimer's disease.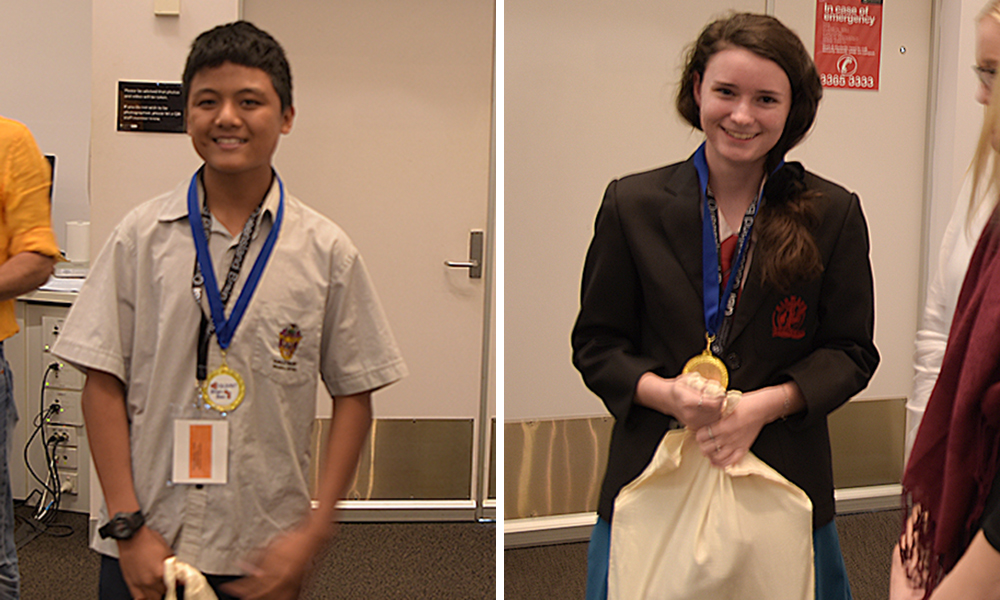 Peter Susanto from Darwin's Haileybury Rendall School and Ella Gausden from Townsville's Kirwan State High School claimed individual honours while the team challenge was won by the Queensland Academy for Science, Mathematics & Technology.
Organised by the Queensland Brain Institute at The University of Queensland, the Australian Brain Bee Challenge motivates students to learn about the brain.
The Australian Brain Bee Challenge is also designed to inspire students to consider undertaking careers in neuroscience research.
Brain Bee Queensland co-ordinator Associate Professor Bruno van Swinderen said finalists had the opportunity to tour the Institute's research facilities and learn first-hand about the variety of research being done by students at here.
"The state final brings together some of the brightest young minds we have in Queensland, who are exactly the ones we'll be relying on to become the next generation of scientists," Associate Professor van Swinderen said.
"Students took part in two rounds of live questioning to determine the Queensland Brain Bee champion, and were also included in various activities to educate them about neuroscience research."
"Some of these students travelled from incredibly far away, including students from Darwin and Atherton, and for most of them, it was their first opportunity to see a working neuroscience laboratory," he said.
The Brain Bee Challenge tests students' understanding of the brain as learnt from an Education Perfect website curated by Brain Bee organisers, as well as a free downloadable book: Neuroscience, science of the brain.
Round 1 involved an online 45-minute multiple choice quiz administered by Education Perfect, taken by students at their school during Brain Awareness Week (11 – 17 March, 2019).  
Individual and team champions were crowned on the day, and the winner of the state final will have the opportunity to compete in the national final in Adelaide in December.