Trained fish are helping researchers at The University of Queensland to understand animal vision and factors behind the huge variation in colours between and among species.  
Ms Naomi Green and Dr Karen Cheney from the Queensland Brain Institute and the School of Biological Sciences have devised what they believe to be the most thorough test of vertebrate colour perception ever developed.
It is based on the Ishihara colour blindness test, which uses numbers or letters embedded in a series of dots to distinguish what colours people can or cannot see.
The researchers have trained triggerfish to find an odd-coloured spot in a field of spots, and to peck it for a food reward.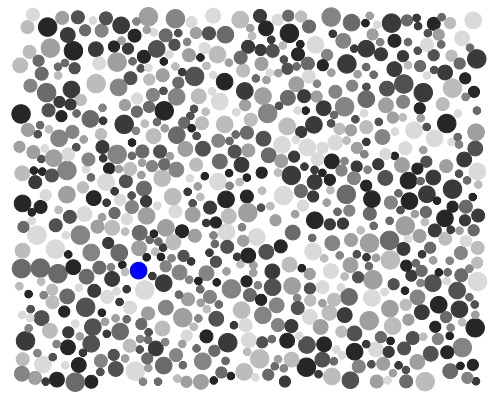 Ms Green said the test was more efficient and accurate than previous tests and had the potential to be applied across a variety of species.
"Traditionally we would test what colours animals see using a paired choice method, with a choice between a red and a grey square, having previously trained the animal to know the green square gives it food," she said.
Researchers would then reduce the colour difference between the red and grey squares, testing the animal's ability to differentiate between the two.
"However, this meant the fish had a 50 per cent probability of picking the correct square by chance alone, and when you want to test a different colour, you have to retrain the fish."
"Now they're trained to find the odd spot, which means we can change the colour of the background and target spot to test a whole range of colours at the same time in a test that more closely mimics their natural environment."
Measuring colour perception in animals
Ms Green said behavioural tests were the most accurate way to measure colour perception in animals.
"Our method is about providing basic, fundamental knowledge about what animals can and can't see," she said.
"For a long time we've used mathematical equations based on the photoreceptors in an animal's eyes to predict what they can see, but that doesn't take into account any of the processing that goes on in the brain.
"We have now provided the most thorough test of vertebrate colour perception to date, and we're hoping we can adapt this to other animals to find out more about what they can see as well.
"Studying colour vision in animals has important implications for understanding why they vary so greatly in colour – for example, camouflage, warning signals, and visual sexual signals."
The research, published in the Journal of Experimental Biology, was supported by an Australian Research Council Discovery Grant.