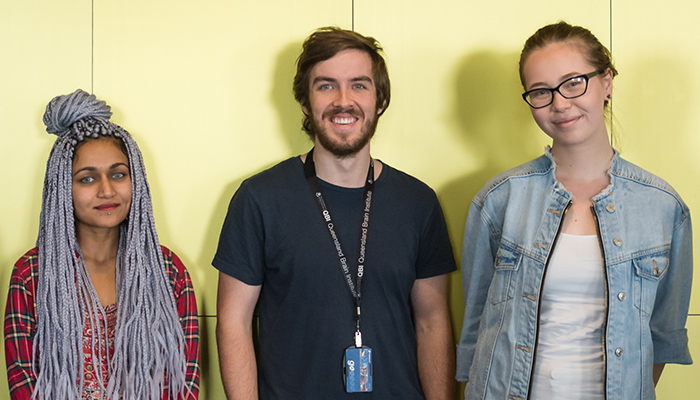 Three students have been awarded scholarships for QBI's Master of Philosophy in neuroscience program.
The students were officially welcomed by the program's coordinator Associate Professor Helen Cooper this week.
Toby Bluett, Talina Bayeleva, and Sharmin Mollick will join the six current MPhil students at QBI. Another six MPhil students who commenced the program in 2016 have either recently been awarded with the degree or submitted their thesis for examination.
In a competitive selection process, more than 100 prospective students applied to QBI's MPhil in neuroscience program for the 2018 intake.
Mr Bluett, who has previously studied at QBI, said he was keen to expand the skills he gained at Honours level.
"I am excited by the opportunity to do laboratory rotations and the advanced workshops and seminars the MPhil program offers," he said. "I'd like to gain exposure to different academic philosophies, research paradigms and approaches, and carry that forward into a PhD."
Talina Bayeleva, an international student with a Bachelor of Biomedical Science degree, said she hoped the MPhil would allow her to gain a better understanding of the field.
Sharmin Mollick, also an international student, originally from Bangladesh, said she was drawn to neuroscience as a result of personal experience.
"When I was young, I suffered from mental health disorders," she said. "As I recovered I wanted to learn more about it and help do something in the future for people who are suffering."
See the Master of Philosophy (MPhil) in neuroscience program for more information and and submissions of interest.
Details: QBI Student Administration: +61 7 3346 6401, qbistudents@uq.edu.au