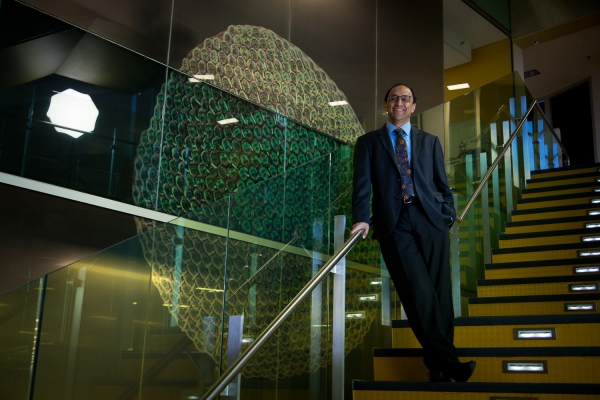 The Queensland Brain Institute at The University of Queensland has secured more than $10 million in project grants from the National Health and Medical Research Council (NHMRC).
Fifteen QBI research projects were successful in this year's grants, with a success rate of 46.9 per cent, compared to the national average of 15.24 per cent.
QBI Director Professor Pankaj Sah congratulated the successful recipients.
"This is a stunning validation of the quality of research underway at QBI," Professor Sah said.
"We are tackling some of the most pressing health issues in an ageing society, but also doing groundbreaking work in discovery neuroscience.
"My congratulations to all our successful recipients who worked incredibly hard to secure these highly competitive grants. I wish them well."
QBI Project Grants
Professor Fred Meunier received two grants totalling $1,180, 446 to unravel a new free fatty acid pathway involved in memory; and investigate the mechanism behind brain cells survival. 
Professor Joe Lynch received  $481,178 to to search for neurotransmitter receptors that could serve as therapeutic targets for a range of neurological disorders.
Dr Zhitao Hu has $911,656 to investigate the function of a scaffolding protein which is implicated in autism disorders.
Professor Darryl Eyles will receive two grants totalling $1, 095, 354: the first to investigate the use of Vitamin D supplements in pregnancy to prevent schizophrenia phenotypes in an animal model; the second to develop a new animal model of schizophrenia by driving dopamine production in the dorsal striatum. 
Professor Linda Richards has $669,400 to investigate a genetic mutation in developing brains which contributes to congenital mirror movement disorder and causes changes in the structure of the developing brain.  In addition to the Project Grant, Professor Richards also received a $ 763, 845 five-year Research Fellowship for her research into developmental brain wiring and its impact on brain function.
Professor Jürgen Götz will receive $758,742 to investigate the interaction of Fyn and Tau in neurodegenerative diseases such as Alzheimer's Disease. 
Dr Steven Zuryn 's Project Grant of $617,857 will be used to investigate molecular factors in neurons that insulate their genes from stress, protecting neuron function and health.
Professor Pankaj Sah will use a $941,656 Project Grant to study the circuits involved in fear, in a bid to develop more effective therapies for anxiety and post traumatic stress disorder.
Professor Perry Bartlett receives $696,409 to further his research into how exercise reverses cognitive decline. 
Dr Rodrigo Medeiros has received $1.4 million for two projects in which his team will research the impact of inflammation in the onset and progression of Alzheimer's disease and whether changes in the immune system can be used as a potential early biomarker and treatment for Alzheimer's disease.
Associate Professor Massimo Hilliard's Project Grant of $648,447 will further his research into ways to repair and reconnect injured nerves.
Professor Jason Mattingley receives $627,857 to investigate ways to promote neural plasticity in young and older adults using brain stimulation.
Help QBI research