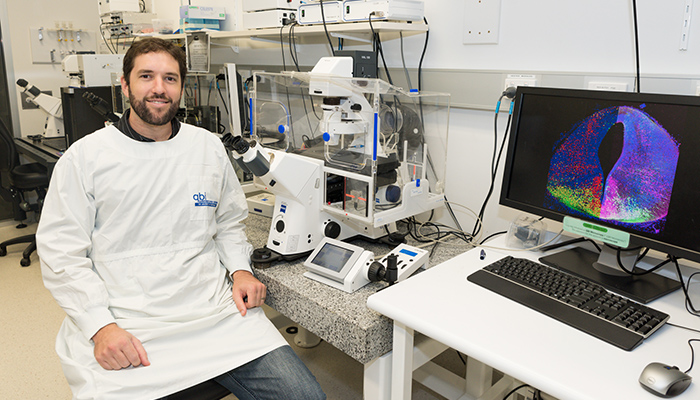 The Queensland Government is throwing its support behind critical mental health research, from pinpointing the origins of schizophrenia to preventing psychiatric problems some Parkinson's disease patients encounter after undergoing a surgical procedure to improve motor function.
Minister for Innovation, Science and the Digital Economy Leeanne Enoch today announced $570,000 in grants for four mental health research projects as part of more than $10 million funding for 54 recipients from the Advance Queensland Research Fellowships and PhD Scholarships programs.
QBI's Dr James Kesby has been awarded a $300,000 Advance Queensland Research Fellowship for his work looking at the links between dopamine neuron development in the prenatal brain and the onset of schizophrenia.
Dr Kesby said current drug therapies for schizophrenia were largely ineffective and we needed to find other ways of dealing with the illness.
"We need to get back to basics, by looking at the origins and progression towards schizophrenia," Dr Kesby said.
"If we can work out what's going on in the brain prior to schizophrenia, I believe we can find biomarkers for early detection."
Funding basic research to put clinical outcomes in action
The Advance Queensland Research Fellowship supports two research teams working in partnership to translate the research into clinical outcomes – a basic research team working at the QBI and a second clinical research team at the Queensland Centre for Mental Health Research.
"One of the major hurdles in mental health research is the lack of direct communication between basic scientists and clinical researchers. By working closely together, we can fast track innovative ideas and research into practical outcomes for patients," Dr Kesby said.
Read more about the Advance Queensland Research Fellowships and PhD Scholarships recipients on the Advance Queensland website.