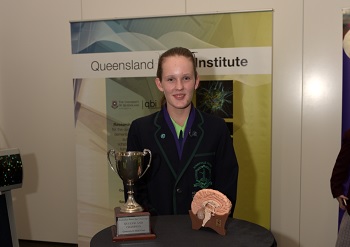 After correctly answering that the cochlear and vestibular nerves are the two branches of the eighth cranial nerve, 15-year-old Abigail Green from Somerville House has become the 2015 Queensland Brain Bee Champion.
Abigail out-smarted 140 other finalists from 47 Queensland schools at The University of Queensland today, to take the title.
The final was held at UQ's Queensland Brain Institute, with the competition going to a sudden death play-off to find a champion, leaving the eventual winner shocked.
"I'm shaking. I just can't believe that I won it, and I'm still in shock," Abigail said.
"I've always loved science, which was why I did the challenge, and I found it really interesting," she said.
"This is the third year in a row my school has won, and we all thought that it had to end at some point, but it's great to have won again."
She will now go into the Australian national final to be held at the University of Western Sydney in December.
In a state of origin battle, New South Wales students have won the last two national finals, with the two preceding finals won by Queensland students — who went on to win the International Brain Bee.
Kirwan State High School took out the Queensland Team Challenge title later in the day.
Brain Bee Queensland Co-ordinator Associate Professor Bruno van Swinderen praised the students for their competitive spirit and neuroscience knowledge.
"Abigail can be really proud of her achievement, and she goes on to represent Queensland and join the long line of tremendous state champions we have produced," Dr van Swinderen said.
"It was especially great to see so many students with a keen interest in neuroscience today, and our hope is that they consider a rewarding career in science.
"The Australian Brain Bee Challenge was established here at the Queensland Brain Institute in 2006 to excite the scientific curiosity of high school students."
During the day the high school students heard from PhD students working on neuroscience research at QBI, and took part in an experiment using wrist monitors to track the stress and alertness of 17 of the students.
"The same technology is being used by neuroscientists right now to monitor students in special classrooms to better understand the process of learning, so they got a special insight into the different way's neuroscience works," he said.
"I hope they go home with a new appreciation of what life is like as a scientist, and just how incredible the brain is."
Media: QBI Communications, communications@qbi.uq.edu.au; Associate Professor Bruno van Swinderen, +61 7 3346 6332, +61 420 365 450 or b.vanswinderen@uq.edu.au.