Kate Swaffer, 2017 Australian Of The Year in SA, and co-founder, Chair and CEO of the Dementia Alliance International lives with younger-onset dementia.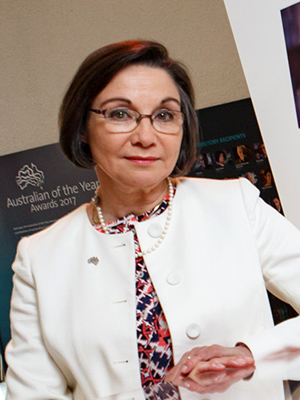 As a 49-year-old married working mother of two teenage sons, when I was diagnosed with younger-onset dementia, I was initially in deep shock. Even though I had been a nurse in a dementia unit, I had no idea younger people could get it.
Ten years on, a lot has happened, and I am still living beyond dementia, in spite of the increasing disabilities. Since losing a partner to suicide aged 27, I learned personally the reality of the old saying, "The King is dead. Long live the King". After some time grieving, decided it better to live every day as if it is my last, just in case it is.
I've become an accidental global warrior for people with dementia, and whilst I still have breath and can use my voice, I will stand up for the rights of us all, including our families. In 2015, the report Addressing Dementia: The OECD Response concluded that "Dementia receives the worst care in the developed world".
This is abhorrent, and obviously includes Australia. As an activist for human rights and access to the Convention on the Rights of Persons with Disabilities for people with dementia, it is my ambition to ensure global change, with a human rights approach to dementia.
I believe we need research for so much more than a cure, and if we don't increase research for improving post-diagnosistic care – that includes rehabilitation, disability support, timely diagnosis, and research into risk mitigation or even reversal of dementia – we are failing our communities. Not to focus on reducing risk would also herald an economic cost that not even the rich developed countries can afford.
A report commissioned by Alzheimer's Australia, predicted that with a focus on risk reduction, the potential savings in Australia would be more than $120 billion. We simply cannot afford not to focus on this, and as the only Australian who is full member of the World Dementia Council (WDC) I can report the WDC also believes this to be very important if we are to manage the costs of dementia globally.
Personally, I have never had a dream for a 'dementia free world' as I believe that is an unachievable notion – you might be interested to know that many others diagnosed feel the same. I specifically want more research into risk reduction, and improving care that is aligned with human rights, in equal proportions to research for disease-modifying drugs or a cure. 

Dementia helpline: 1800 100 500