Neuropsychology Research Unit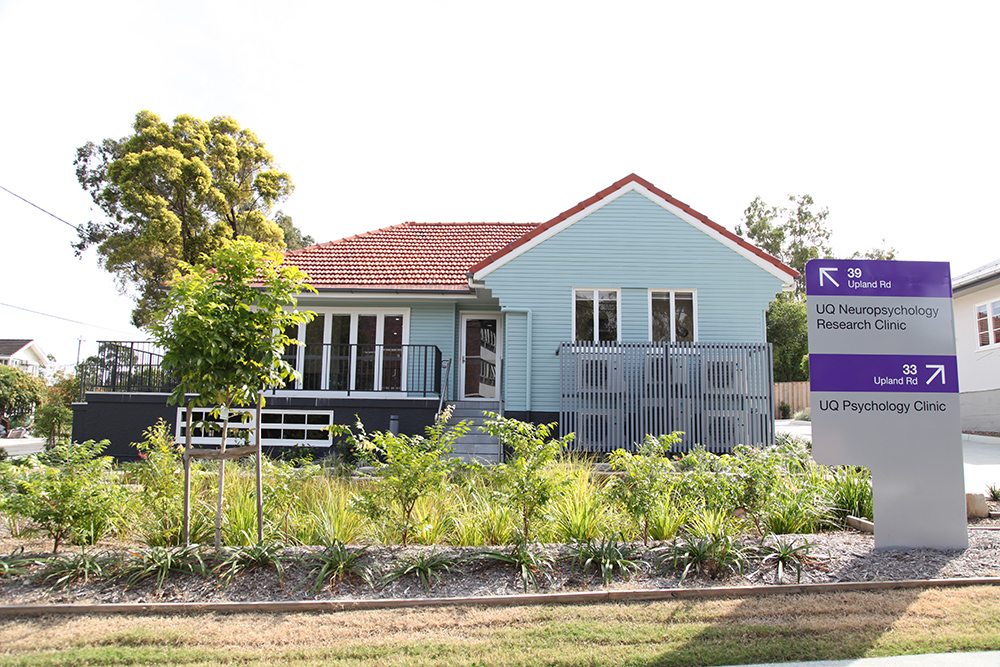 Dedicated to enhancing brain function in health and disease through A.R.T.
Assessment of cognition, behaviour, emotion and social function.
Research to increase our knowledge about normal/ abnormal mind-brain function.
Training, rehabilitation and intervention to maintain or maximise optimal function.
The  Neuropsychology Research Unit is based at the UQ Neuropsychology Research Clinic (UQNRC), which is a purpose-built research facility that opened in September 2017. The vision of Professor Gail Robinson was to create a hub where students, researchers and individuals with brain disorders come together for clinical, training and research purposes. The UQNRC facilities comprise three clinic testing rooms, one with a brain physiology laboratory, and working spaces for staff and students.
The UQNRC is located in a residential house on the UQ St Lucia campus, with easy access and parking, adjacent to other psychology and brain-focused facilities including the Queensland Brain Institute and the Centre for Advanced Imaging.
Research projects and populations
Professor Robinson's Neuropsychology Research Unit conducts neuropsychological projects with individuals with a range of neurological, neuropsychiatric and neurodevelopmental disorders including:
In addition, our research focuses on understanding cognition and behaviour in healthy individuals of all ages, as well as those who are in later years of life or ageing naturally.  Specific projects include:
Executive control of language generation – contribute to our understanding of the cognitive mechanisms that are crucial for producing propositional (or conversational) language. This is investigated in both healthy (all ages) and neurological populations.
 
PISA - Prospective Imaging Study of Ageing: Genes, Brain and Behaviour (Dementia Research Team Grant 2015-2021). The aim of PISA is to identify preclinical biomarkers of ageing and dementia by investigating clinical cohorts (AD and MCI) and healthy middle-aged Australians at high and low genetic risk for AD and follow them longitudinally.
 
Frontal lobe functions following stroke: Acute predictors of long-term outcomes – Investigate neuropsychological consequences of stroke in the acute phase that can predict independent living and ability to function in daily life after 1 year.
 
Motor Neurone Disease – identify cognitive and behavioural changes and develop an online carer's behaviour rating questionnaire (OCQ).
 
Primary Progressive Aphasia – discover the critical cognitive processes affected, develop a novel assessment tool that can differentiate between the different presentations and create personalised and tailored behavioural and brain stimulation interventions.
 
Movement Disorders – identify neurocognitive patterns that can differentiate between PD and atypical parkinsonian disorders like CBD and PSP.
 
Corpus Callosal Dysgenesis – discovering the consequences and effective interventions for disorders of the corpus callosum, the largest fibre connecting the left and right brain, with the International Research Consortium for Corpus Callosum & Cerebral Connectivity (https://irc5.org/).
Community links
The Neuropsychology Research Unit and UQNRC are well integrated with local health services via the:
Royal Brisbane and Women's Hospital (RBWH) Memory, MND and Movement Disorders Clinics
Neurosciences at the Mater Hospital
BrizBrain & Spine (brain tumours)
stroke units at the RBWH and Princess Alexandra Hospitals.
The Robinson group provides a Neuropsychological Assessment and Rehabilitation service, including a Dementia Diagnostic Service, which developed from the PISA project. Referrals are accepted from Neurologists, Psychiatrists and Geriatricians.
Participate as a volunteer for neuropsychology research
If you are interested in volunteering as a research participant please email our Administrator. We welcome individuals who are either healthy or those with a neurological diagnosis. If you have a neurological disorder, please provide a referral from your medical specialist (e.g. Neurologist, Psychiatrist, or Geriatrician).
Related media coverage