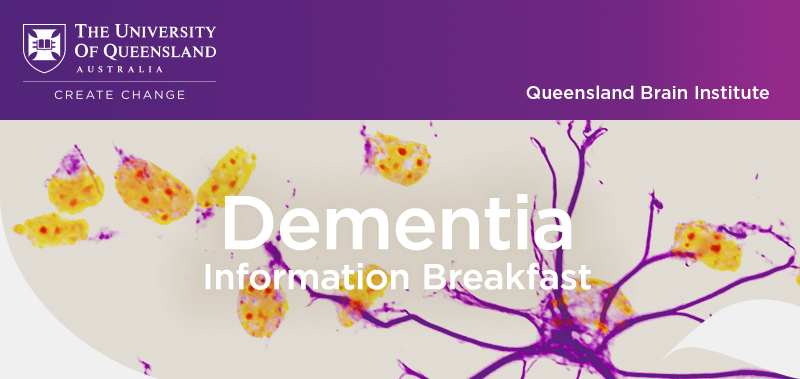 Join Us
to hear about the latest insights into Dementia research and early intervention. Networking starts at 7:00 am with Breakfast and presentations officially beginning at 7:30 am. This event will conclude at 8:45 am.
Dementia is one of society's most pressing health problems. It affects almost one in 10 people over the age of 65 and is the second leading cause of death in Australia.  Its tendrils reach far and wide: nearly all of us know somebody affected by the condition, whether it be a family member, friend or colleague. 

Queensland Brain Institute at UQ, with help from the Queensland Government, established the Clem Jones Centre for Ageing Dementia Research (CJCADR) in 2013, Australia's first dedicated dementia research centre. Now home to more than 90 exceptional researchers, these scientists are united by the deep desire to understand the fundamentals of dementia: how and why dementia starts, how to stop its progression, and how to develop effective treatments. 

Speakers
Professor Jürgen Götz
Talk title: CJCADR Update
Professor Jürgen Götz is Foundation Chair of Dementia Research and Director of the Clem Jones Centre for Ageing Dementia Research at the Queensland Brain Institute (University of Queensland). He performed undergraduate studies at the Biocenter of the University of Basel, before joining the laboratory of Nobel Laureate Georges Köhler to obtain his PhD degree in immunology. Subsequently, he took up postdoctoral positions at UCSF (San Francisco) and Sandoz Ltd (now Novartis, Basel), and worked as Research Group Leader at the University of Zurich (Switzerland). Before taking up his current position, Götz was a Professor and Chair of Molecular Biology at the University of Sydney. Götz is an internationally renowned expert in basic research in Alzheimer's disease (AD), focusing on the cellular and molecular mechanisms of how tau and Aβ cause neurodegeneration, using transgenic and cellular models. More recently, Götz developed a non-pharmacological ultrasound-based treatment strategy that removes toxic Aβ and tau in mice and restores memory functions, presenting ultrasound as a novel treatment modality for diseases of the brain.

Professor Peter Nestor
Talk Title: Clinical Dementia Research
Professor Peter Nestor is a professor of cognitive neurology at the QBI and Mater Hospital. His research focuses on improving the diagnostic accuracy of the major forms of dementia and also seeks to create a deeper understanding of precisely how these diseases affect the brain with a view to identifying new targets for therapy. He graduated in medicine at the University of Melbourne in 1989; completed physician training at the Royal Melbourne Hospital; and advanced training in Neurology at the Alfred Hospital, Melbourne and the National Hospital for Neurology and Neurosurgery, London. He completed his PhD on PET scanning in dementias at the University of Cambridge where he remained for 15 years as a dementia specialist and researcher. From 2012 to 2017, he was Professor of Cognitive Neurology at the German Centre for Neurodegenerative Disease, Germany before returning to Australia in 2017.  
 
Associate Professor Gail Robinson
Talk Title: Cognitive Assessment for Dementia Diagnosis
Associate Professor Gail Robinson has been a clinical neuropsychologist and researcher for ~25 years in Australia and in London (UK), where she spent 14 years at the dynamic and historic National Hospital of Neurology and Neurosurgery, Queen Square, London. In 2010, Gail transitioned from a clinical role to an academic position at UQ where she has been director of the Clinical Neuropsychology Doctoral programme (2010-2017). Gail's clinical research is focused on both theoretical questions about brain-behaviour relationships like the crucial mechanisms for the executive control of language, and clinical questions regarding cognitive assessment and management of various pathologies including neurodegenerative disorders and stroke. One of Gail's interests is neurocognitive diagnostic indicators for dementia.
 
Registration
This is an invite-only event. If you are interested in attending this event, please contact the QBI Events team at qbievents@uq.edu.au or on (07) 3346 6412.
About Breakfast Series
QBI Breakfast Series provides a backdrop for exclusive engagement with a national and international community. Here, QBI scientists engage with key supporters, influencers, community groups, not for profits and corporations through a series of informative interactive research lectures.
Venue
Hillstone Golf Links, Carawa St, St Lucia QLD 4067