Understanding how neuronal activity and synaptic function produce and are shaped by behaviour is a fundamental goal of neuroscience. Similarly, improved treatments for mental and neurological disorders will rely on gaining a better appreciation for how the brain coordinates activity across synaptic, circuit and system scales. This short conference brings together academic, industry and clinical leaders to discuss the latest advances in these areas.
Neurons, synapses & circuits - from function to disease
Thu 16 Aug 2018 9:00am
–
Sat 18 Aug 2018 4:30pm
Venue
1 North Head Scenic Drive. Manly NSW 2095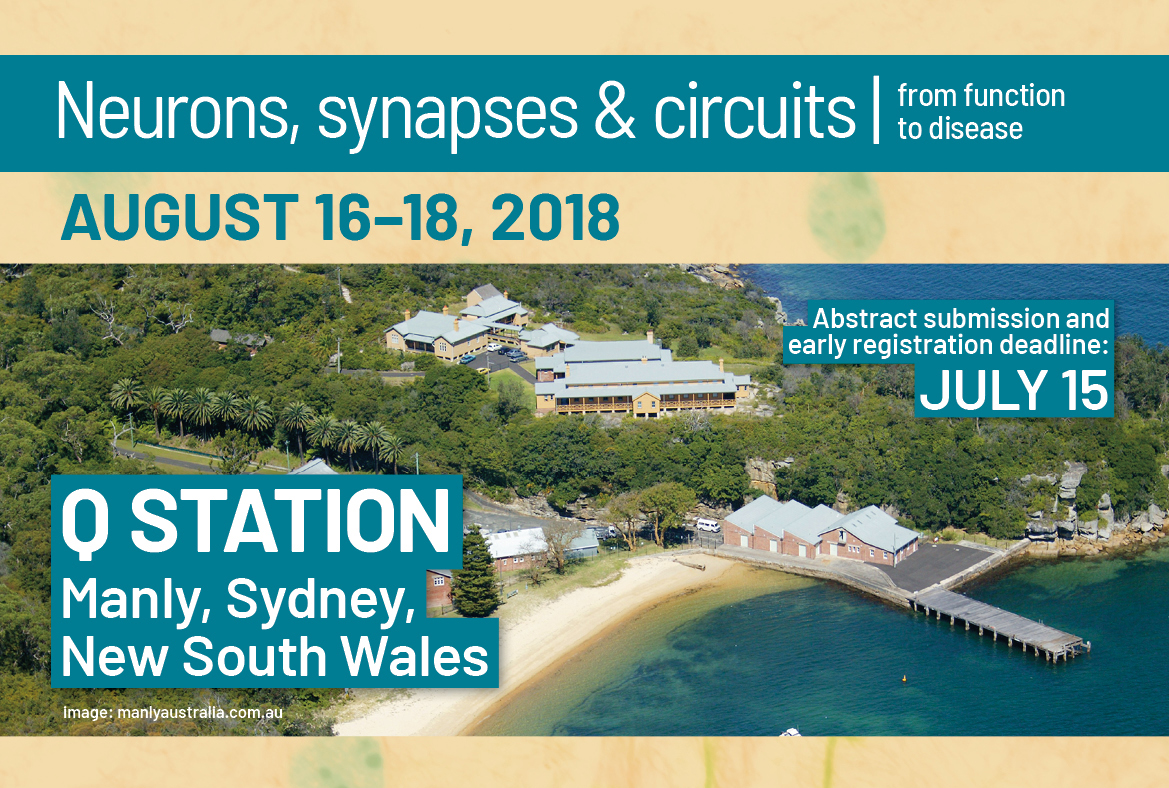 Registration
Registration costs $200 and includes a buffet dinner on Friday August 17. 
Abstract submissions
Abstract submissions are encouraged prior to the deadline of July 15. A small number of abstracts will be selected for oral presentation (15 minutes each).

Please provide abstracts using the following template and email to qbievents@uq.edu.au
Speakers include:
David Bredt                    Johnson and Johnson
Rick Huganir                 Johns Hopkins University
Julie Kauer                    Brown University
Anatol Kreitzer             University of California, San Francisco
Diane Lipscombe        Brown University
Rob Malenka                Stanford University
Stephen Maren            Texas A&M
Chris McBain                NIH
Katherine Roche          NIH
Bernardo Sabatini        Harvard University
Morgan Sheng             Genentech
Shengtao Hou              Southern University of Science and Technology
Andres Villu Maricq     University of Utah
Liping Wang                 Shenzhen Institutes of Advanced Technology
Accommodation
Q Station has a total of 84 rooms and is 35 minutes from central Sydney. Numerous alternative hotels are located within a 25 minute walk or 10 minute bus ride of the conference venue, near Manly beach.
Sponsors
The organisers are extremely grateful to the following sponsors: 
The International Society for Neurochemistry
Janssen
The Queensland Brain Institute
Conference Organisers: Pankaj Sah*, Katherine Roche, David Bredt and Shengtao Hou
*Scientific queries to pankaj.sah@uq.edu.au
All other queries to qbievents@uq.edu.au