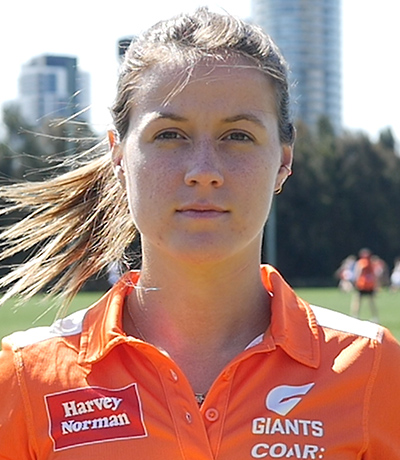 A defender for the AFLW Greater Western Sydney team, Nicola Barr is used to being fearless. She knows head knocks are a part of the game but feels lucky enough not to have had a serious concussion.  
"You want to be really resilient; I think that's a really important characteristic as a footballer," she says, "because football's a pretty tough sport."
"I love footy because I think it's a very complete sport. I played a lot of sports growing up. The camaraderie you have in a football team isn't like any other sport I've played in before."
But Barr also recognises the impact of concussions. "Concussion is a serious thing - any head injury is very serious," she says. "At the end of the day it's just a sport. And your head is more important than a game of footy."
She thinks concussion should be taken seriously by everyone. "In my opinion, if you think you have a concussion, you get off the field. And the doctors know that. It should be the number one priority, making sure you're okay before you play again. You need your brain to do everything. So if you get a bad concussion and go on and get another one, it's just brain damage and isn't good."
Better awareness and education, she feels, is important. "It's growing but I think it has room to improve," she says. "It needs to be taken seriously at any level. More awareness needs to be created about concussion because it is very serious and head injury is awful and can have some really serious complications."
Barr has her eye on the long game. The Sydney University medical sciences student plans on becoming a doctor – and she knows that one day she could be the one making medical decisions for others. "I can't say that I'm wanting to go back on the field when in the future I'm hoping to look after people who might have had a concussion and I'm not going to want them to get on the field and take the risk."
"You know, there' are a lot more important things at the end of the day."