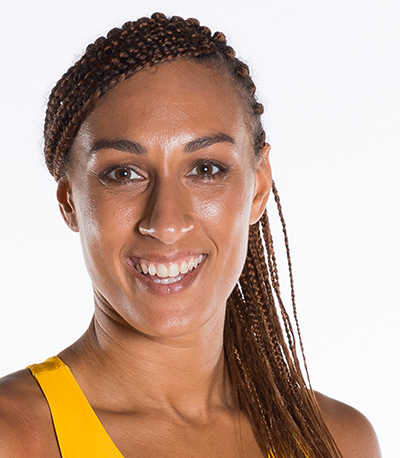 As one of the best defenders in international netball, Sunshine Coast Lightning Captain Geva Mentor has sporting excellence in her genes. Inspired by her family, who played a range of sports at a high level, Geva was always destined for great things in the sporting arena.
"I always say netball chose me rather than I chose it. My parents, and brother, were always heavily involved in playing, coaching or watching sport. Mum was into racquet sports, while Dad did martial arts and even played gridiron in England. I began my competitive involvement in sport with athletics, and then moved into trampolining and bounced at a junior UK national level, before falling into netball," said Geva.
Selected to play netball for England at just 15 years of age in 2001, Geva has built a career around being an elite athlete and a desire to do what's needed to be the very best.
"I started playing netball properly when I was about 12 years old. I played representative netball up until the age of 15, before gaining a spot for the National England Netball team. I've played for England since 2000 and I've been in Australia playing in the ANZ Championships since 2008."
Driven by seeing concussion in sport
Geva's love of sport and her drive for fitness and good health is what attracted her to be part of QBI's #nobrainnogame campaign.
"As an athlete, I have seen an increase in the awareness and diagnosis of concussions throughout sport in Australia. Living in Melbourne, I'm exposed to a variety of sports, including AFL, rugby union, rugby league and soccer. I've witnessed concussions occur live at matches and on TV, and it is quite shocking and extremely concerning to see it happen," said Geva.
"Straight away, my thoughts go out to the player affected, but the more worrying factor to consider is the player's long term well-being. I was approached by QBI and I am proud to support the #nobrainnogame campaign which helps to highlight the impacts of concussion."
Luckily, Geva hasn't experienced concussion first hand but feels that while there are many collisions that occur during a game, the fact that netball is a non-contact sport helps to limit the amount of head knocks. She recognises that the speed of the game of netball is ever increasing, which may increase the risk of such collisions in the future.
"I am aware of the short-term effects of concussion as it occurs relatively often and is reported more frequently, especially through TV, internet and social media. When it comes to the long-term impacts, I am not as well versed, because I believe they are perhaps not as well known publicly.  It's important for not only athletes and coaches to understand concussion but for everyone to be aware of the risks."
Be aware of concussion symptoms and its effects
Geva strongly believes in the importance of concussion research and hopes that QBI's campaign can help athletes and individuals become more aware.
 "I certainly wasn't fully aware of the need for early diagnosis and treatment of concussion until I heard about the campaign and I wouldn't be surprised if other netballers weren't aware either. Even though concussion doesn't occur as regularly in netball, awareness is just as important as it is for other sports because the effects can be just as significant."
When it comes to learning more about concussion and its effects, Geva feels that both professional and amateur sportspeople shouldn't be afraid to ask and arm themselves with knowledge before it happens.
"Ensure that you look out for signs of concussion if you take a heavy knock and know how it should be treated. This awareness will not only help you, but those around you," Geva said.
"After all you only get one brain, so take care of it in the long term."